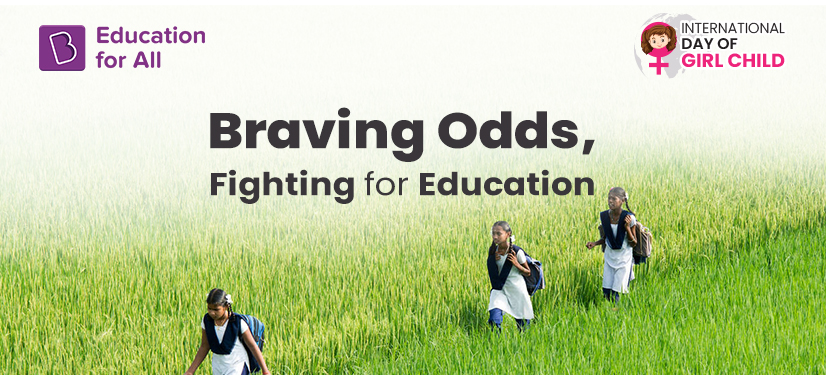 Across centuries, the girl child has always been at risk of illiteracy, marriage and even loss of life. Girls have been oppressed due to deep-rooted societal norms, with a future of no hope.
According to the United Nations, up to 10 million girls will be at risk of child marriage. The overpowering effects of the COVID-19 pandemic are putting girls at higher risk of early marriage due to the economic shocks, school closures and breaks in reproductive health services.
Every year, International Day of the Girl Child is celebrated to stand up for the rights of girl children and to fashion a bright future for them. This year, the United Nations has defined the theme "Our time is now—our rights, our future".
On this occasion, we share the stories of 3 of beneficiaries of BYJU'S Education for All, and how despite the odds, they are fighting for their education.
"My life is not limited to the kitchen."
Hailing from a humble hamlet in the Khargone district of Madhya Pradesh, Vinitra* hopes to soar the skies one day. She goes to the local government school, working daily to achieve her dreams. The bright young mind lives with her two siblings and her parents in a joint family. This family, with their orthodox beliefs, hinders her dreams.
"My uncle believes that girls don't have a position within society beyond the walls of a kitchen. Most of the family strongly believe that girls, instead of learning at school, should be learning at home – everything from household chores to cooking. They want us to get married young so that they can manage their homes and children easily," Vinitra shares.
"But I want to become financially independent and go outside my village to study," she adds.
Her father, Ganesh Kumar*, too, hopes to help her fulfil her ambitions.
"I want my children to receive good national-level opportunities outside our village to ensure that they can grow with education," he says.
While she dreams big, her family's economic condition often pulls her down. Her father works as a farmer, and her mother is a homemaker. Their family's income is just enough to break even and insufficient to support their children's education.
During these times, she received the BYJU'S App from an NGO partner, Manthan Sahara, through which she studies daily.
"I have been using the BYJU'S App for about a month. It has provided easy access to good content in Hindi, from which I can easily learn and understand. The funny and interactive videos in the app also make learning fun," she says.
"I don't want to get married."
Tanvi* hails from a farming family in Segao Block of the Khargone district. She lives with her father, who works as a farmer, her mother, and her four sisters, who often face inequalities within the household.
"My family is very traditional and wants all of us to stop our studies to get married young. All my sisters are already married, but I don't want to go down that path. While I don't want to rule out marriage, I want to ensure that I am financially independent before I even think of marriage," says Tanvi.
Tanvi goes to a government school in the village and is among the bright students in the class.
"My mother keeps complaining that I don't do any household work. But, I choose to study and focus on getting a job in the future," she says.
That's when she met a volunteer from the NGO Manthan Sahara who gave her the free BYJU'S learning content, which supplements her learning at school.
"The video content in the BYJU'S app is very friendly and easily understandable. I am happy to study using the app and hope to get ahead in my studies," shares Tanvi. 
"I just want to study."
Priya* Kumari hails from Sakchi, Jharkhand, where her family runs a small business of breakfast and lunch services to make ends meet. However, Priya's interests differ, as she hopes to study and earn a degree.
"From the time I remember, my family has never supported my education. They would always make me stay back and work for them. On the other hand, they would provide any kind of help to my brother, including sending him to school," she shares.
Later on, due to her attendance shortage, the school warned her parents to send her regularly, threatening to take away the facilities they were getting from the government. After this, they not only regularly sent Priya but her younger sister as well.
One day, when her parents came across an initiative by the NGO ALIG Society and BYJU'S, they decided to buy a smartphone for their children. The free BYJU'S learning app was installed and activated, and the children have been using it regularly since then.
"I have been regularly watching the videos in the BYJU'S App, and geography is my favourite. I have also been able to improve in mathematics, and am feeling more confident about the exams. I am also able to focus on my studies more, now that my parents, too, have started supporting me," she shares with a smile.
On International Day of the Girl Child, we salute the efforts of these children, who are working towards a better future, despite the odds. We hope that through BYJU'S Education for All, we can uplift millions of girls and help them soar the skies.
*Names changed for the protection of identity
---
BYJU'S Education for All is on a mission to empower 10 million children by 2025 with education. Through the BYJU'S Give programme, you can contribute to this movement and help children with quality digital learning. You can donate an old device, which we will refurbish, and then use the money raised to buy a new device. In case you do not have a device, you can also donate to an NGO partner, who will use the funds to buy devices for children.
In both cases, we will load our BYJU'S Think & Learn premium content onto these devices and distribute them to children in need.
Also read: How BYJU'S Social Initiatives is Spreading Smiles with Access to Education