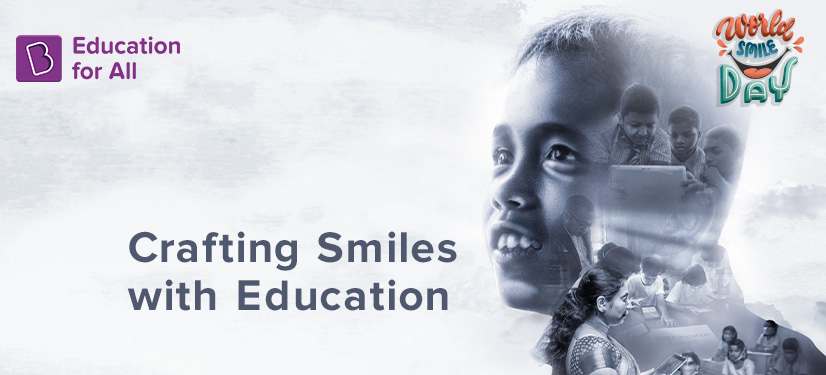 Education has been a matter of choice for millions of children across India for many years. When hard times hit, many families in poverty choose to remove their children from school for two reasons – being unable to afford school fees and getting an additional source of income through child labour. Ultimately, they get caught in the same intergenerational cycle of poverty.
While these hindrances take children away from their hopes and dreams, NGOs, non-profits, individuals, and many others have been ensuring this doesn't happen. They have been fueling their goals and making a difference in their lives through their initiatives.
BYJU'S Social Initiatives was started with a similar goal and mission – to transform the lives of millions of children by empowering them with education.
"During the pandemic, our primary goal was to ensure that school closures don't stop children's learning. Many low-income families either bought a smartphone or could access a device with the help of an NGO or through our Give (device donation) initiative. We immediately provided our learning content for free to lakhs of such students," says Natasha Uppal, General Manager, Strategy and Learning.
On World Smile Day, we share how BYJU'S Social Initiatives is working towards making accessible education a reality for children all over India. Through the BYJU'S Education for All (EFA) initiative, we hope to impact 10 million children with free access to learning by 2025.
Also read: Educating in the Remote Village of Namsai
A Mission to Make Education Affordable
"At EFA, we're trying to bridge gaps arising from economic, social and even geographical constraints. We're ensuring last mile delivery of educational services to farthest corners of the country and making digital education – equitable, accessible and sustainable," shares Abhijeet Mukerjee, Associate Senior Manager.
Since its inception, BYJU'S Education for All has impacted over 3.5 million children with quality education. We have partnered with over 115+ NGOs across 27 states in India. We reach out to the beneficiaries through these NGOs with BYJU'S learning content. It also ensures that learning access goes hand-in-hand with measurable improvements in students' conceptual understanding and learning performance.
In addition to these organisations, we also work with governments, students, parents, teachers, volunteers, and other key stakeholders to ensure that each student is effectively supported in their learning journey.
Key Projects
In addition to our NGO partners, we have several key projects, including the Bharat Ed-Tech and government associations. One of the significant associations has been with the NITI Aayog – the Career Plus programme. Through this partnership, we are reaching out to children in the aspirational districts defined by the NITI Aayog.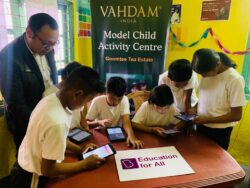 "Being able to tap into the potential of students from aspirational districts through the Career Plus program by offering them the opportunity to fulfil their dreams of becoming doctors or engineers has been an enriching experience. The Career Plus program is an opportunity for students from the remotest districts to get access to top teachers and high-quality content, thereby getting a fair chance at building successful careers," says Devanshi Tripathi, Director.
The programme works with the candidates of the BYJU'S Fellowship Program with a knack for working in the aspirational districts and bringing about a transformation in how education, concerning JEE/NEET preparations, is perceived in these districts.
"It is not an easy task to be in these aspirational districts and implement the Education for All and Career Plus programs. There is a multitude of challenges that needs to resolve daily. The numerous initiatives fellows take in their assigned districts inspire my day-to-day work. I am pleasantly surprised with the commitment and hard work of the Fellows in the programme," says Rose Mary, Senior Associate.
Spreading Smiles with Education
Talking about the work so far at Social Initiatives, Natasha shares, "It has been so encouraging to witness the joy and excitement for learning among these children while using the BYJU'S app. I have personally spoken to many students, even across some of the remotest geographies in India, who proactively engage with the app because they enjoy the audio-visual learning content and gamified tests and quizzes."
She adds, "Along with improving their subject knowledge, they're picking up important digital skills – both of which will serve them throughout their lives. Ensuring that a child's background, gender, or economic condition is never a barrier for them to experience the joy of learning is how we spread smiles through our work!"
Anjali Rose, Fellow, also talks about her experiences at the Career Plus programme, "My work involves interacting with several people daily. I meet many girl children and hear their stories, and starting a conversation would be the hardest thing if it wasn't with a smile. Only then can I, eventually, put a smile on their faces. So, I always believe that each of these smiles brings us closer to a more equitable world."
While we are just at the beginning, we still have a long way to go at BYJU'S Social Initiatives. We hope that with our initiatives, we can craft smiles on the faces of children across India with the promise of education.
---
BYJU'S Education for All is on a mission to empower 10 million children by 2025 with education. Through the BYJU'S Give programme, you can contribute to this movement and help children with quality digital learning. You can donate an old device, which we will refurbish, and then use the money raised to buy a new device. In case you do not have a device, you can also donate to an NGO partner, who will use the funds to buy devices for children.
In both cases, we will load our BYJU'S Think & Learn premium content onto these devices and distribute them to children in need.
Also read: How BYJU'S Fellows are Shaping the Lives of Students Every Day