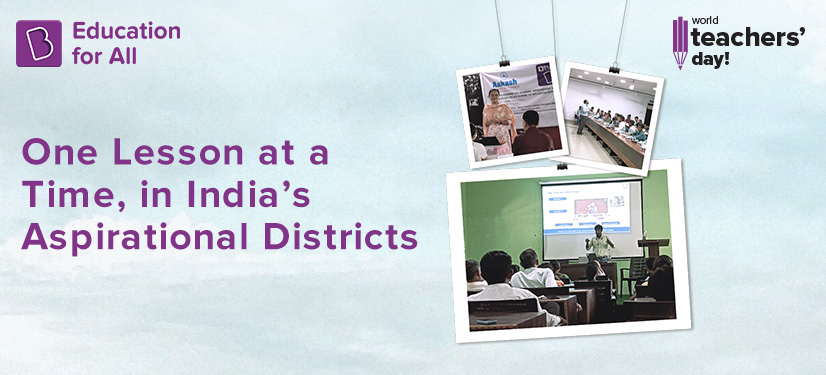 "A good teacher is like a candle; it consumes itself to light the way for others." – Mustafa Kemal Atatürk.
A teacher plays a crucial role in a child's life and has the power to mould it into the right shape. So, at all times, a teacher needs to be a role model to their students.
While being a constant guiding light, they also have to take regular classes, ensuring that they finish portions on time, making the classes engaging, and ensuring that the students grasp the concept. The effort that a teacher puts into a child's learning process is immense and should never go unrecognised.
A couple of months ago, we launched the BYJU'S Fellowship Program, wherein we sent the Fellows to different aspirational districts defined by the NITI Aayog. Through this initiative, the Fellows reach out to children from the most vulnerable sections and help them with BYJU'S learning content which will help them ace exams like JEE and NEET.
On World Teachers' Day, celebrated on October 5 every year, we spoke to the Fellows, who not only are teachers or mentors to these children but are also a guiding light for their learning. These teachers have ensured that these children access quality education and have worked tirelessly to make a difference.
Komal Khandelwal, one of the Fellows, is currently posted in the Dhaulpur district of Rajasthan. She shares her experience of the last six months in the district, reaching out to multiple stakeholders and children from the most remote villages. In addition to the JEE and NEET coaching, Komal also teaches English to a few students.
"Amidst all the challenges language barrier remains a crucial one. So, I help these kids learn English as it would also play an important role in their NEET and JEE preparation or whichever career they aspire to be in," says Komal.
She further adds, "Meeting and working with the young kids from underserved backgrounds and understanding their challenges have made me grateful about my life and acknowledge my privileges."
"Whenever I see students, I see myself in them," says Vishakha Sharma, a fellow posted at Jaisalmer, Rajasthan. As a teacher, she strives to make a difference in the lives of underprivileged children in the district.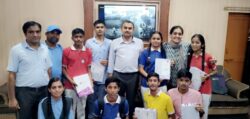 "I see how much they are motivated to work hard and want to become something in their life. I understand their life's challenges and vulnerabilities because I was in their shoes at some point in time. But apart from all of these, my students can stand stronger and do well in life," says Vishakha.
For Mrinal Keshri, being a mentor to the children at Aurangabad, Patna, has been a great feeling in the last six months.
"Aurangabad is approximately 140 kilometres from the state capital, Patna. Still, resources are limited in terms of the educational ecosystem. I have been working with these students for the last six months. I have come across multiple issues daily. Apart from administrative work, I directly handhold students in their academic journeys," says Mrinal.
He adds, "I oversee their class participation, learnings and interactions. As per their requirements, I have also organised workshops to enhance their experiential learning. So, on the whole, it feels good to be their mentor. Moreover, the fellowship journey has given me a wider perspective on various developmental issues."
"At the BYJU'S Fellowship Program, I had a great opportunity to interact with students from diverse backgrounds. It feels good to be a teacher in this programme and constantly motivate and drive the children to do better," says Salman Ahmad, currently posted at Udham Singh Nagar, Uttarkhand.
While he is primarily a mentor for the children at Pelling, West Sikkim, Piyush Agarwal says he strives to be a good mentor for the students.
"West Sikkim is a beautiful place with lots of opportunities. There are plenty of schools in the district, and the education quality seems good. While I meet the students weekly, I am happy to interact with them and help them whenever required. I am glad I can help students through this programme and make a difference in their lives," says Piyush.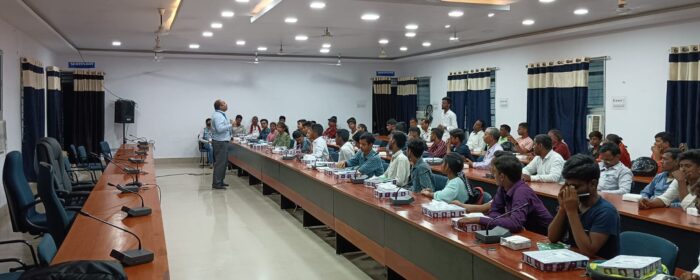 While our Fellows are working hard to support the students, our NGO partners, too, have teachers who have been shaping the lives of the beneficiaries.
Sudha Mani, one of the teachers from ALIG Society, Jamshedpur, shares, "My teaching journey has been full of challenges and adventures. My work was not only to teach the students but also to boost their confidence and help them compete with the outside world."
She adds, "While it has been challenging, I am glad I had the opportunity to work with those domicile students who need quality education. As a teacher, I just hope to create a new world for those students who look up to me with a hope to shape their life and give them a beginning."
On World Teachers' Day, BYJU'S Education for All salutes the teachers who have been going out of their way to help their students. Without them, life would be different.
Thank you, teachers, for shaping yesterday, today, and tomorrow!
---
BYJU'S Education for All is on a mission to empower 10 million children by 2025 with education. Through the BYJU'S Give programme, you can contribute to this movement and help children with quality digital learning. You can donate an old device, which we will refurbish, and then use the money raised to buy a new device. In case you do not have a device, you can also donate to an NGO partner, who will use the funds to buy devices for children.
In both cases, we will load our BYJU'S Think & Learn premium content onto these devices and distribute them to children in need.
Also read: Educating in the Remote Village of Namsai