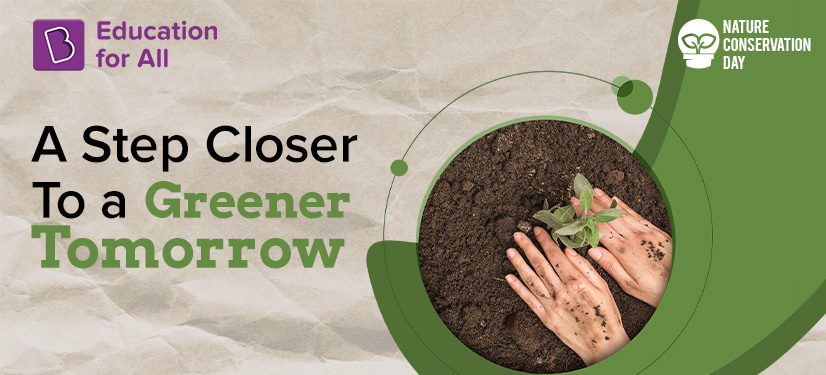 The earth is in more danger with each passing day because of increased human activity. The high usage of single-use plastics, the swelling e-waste volumes, and the vast mountains of unending landfills have left the earth struggling for breath.
Every year on July 28, Nature Conservation Day is celebrated to spread awareness about the planet's critical situation and encourage people to take action.
We share stories of our NGO partners, Go Dharmic and Round Table India, who, in addition to their education initiatives, have been attempting to protect the environment. Read on.
Go Green with Go Dharmic
"Go Dharmic is constantly working in alignment with the Sustainable Development Goals. We have many ongoing projects related to environmental preservation," says Sonal Jain, Head of Fundraising, Partnerships & Communications, Go Dharmic.
From restoring forests to protecting the vast expanse of the Himalayas, the NGO has been involved in many green activities.
Under its 'Restoring the Sundarbans' campaign, Go Dharmic has planted over 70,000 mangrove trees. "Our goal is to plant 2 million trees by 2026," Sonal shares.
In addition, there have been several tree plantation drives in schools across India. The NGO also focuses on reducing plastic usage, distributing green plant-based vegan food in their food distributions, and also spreading awareness for the same.
It also participated in COP26 or the 2021 United Nations Climate Change Conference to spread awareness about the harmful effects of animal agriculture on the environment.
"Last year, we conducted an online event, 'Ahimsa and the Environment – to bring together World leaders, Politicians, Climate activists and policymakers to start a discussion about climate change and the environment," shares Sonal.
This year, Go Dharmic will also run another virtual event called 'Ahimsa and The Environment: Protecting the Himalayan Region'. The event will focus on the environmental challenges imposed on the Himalayas and the surrounding communities.
Go Dharmic is also organising the 'Cycle the Salt Ride', an all-immersive 8-day cycling experience, where the members will ride approximately 384 kilometres, following the route of Mahatma Gandhi's famous salt march. The objective is to raise awareness and vital funds for some of Go Dharmic's environmental campaigns.
On the occasion of Nature Conservation Day, Sonal shares that the concept of conservation is key to a sustainable future.
"Environmental conservation is a pressing issue in our battle against global warming and climate change. The conservation of wildlife and their habitats, and access to them, is of immense educational value. We need to preserve our environment to support life by supporting ecological balance," says Sonal.
She further adds that educating children to make them aware of real-world issues is essential.
"Environmental education provides important opportunities for students to engage in real-world issues that transcend classroom walls. If we teach healthy, sustainable practices at a young age, we will ensure the future generation takes every step, keeping in mind its impact on nature. Education will help us to understand the earth and its natural resources and how we can preserve them," she shares.
As an organisation, Go Dharmic hopes to continue to promote and educate society on non-violence as a practical means of achieving its climate objectives whilst directing everyone towards a compassionate and symbiotic relationship with nature.
Nature Conservation by Round Table India
"At Round Table India (RTI), we recognise that we have only one earth and need to take care of it. It means doing everything we can to protect the Earth and promote a healthy environment," says Amit Jain – Chairman, Bangalore North Round Table 25, for the tabling year 2022-23.
The Go Green initiative is one of the core facets of RTI and also a need of the hour. Through several monthly activities, the organisation has encouraged people to adopt a greener way of living that will not harm the environment. 
Over 320 plus chapters of RTI across India contribute to this initiative.
There have been plantations of over 25 lakhs saplings across India by different chapters of RTI yearly under the 'Go Green' project. To extend the cause, seed balls & saplings are also distributed to students of RTI-supported schools across India and plantations are done on school premises, too.
To promote eco-friendly Ganesh Chathurthi celebrations, all chapters of Round Table India distribute over 50,000 clay Lord Ganesha idols annually across India. 
"Every month, different RTI chapters distribute thousands of eco-friendly brown paper & cloth bags to the street vendors to create awareness about using organic bags and discouraging the use of plastic bags," shares Amit.
"We also conduct awareness programmes about the need to recycle and reduce carbon footprint," he adds.
On Nature Conservation Day, Amit shares three main reasons to preserve the environment: to protect the earth, to save the life on earth, and for better human health.
He says, "We must conserve to fight climate change and protect the earth's natural resources so that future generations continue to enjoy the same. We also have to conserve to safeguard wildlife facing extinction leading to an imbalance in the ecosystem. Thirdly, and largely for a self-centred reason, we need to protect our health and continued life because our children and we need a healthy environment."
Amit believes that education and awareness about conservation will bring about a lifestyle change that will halt further deterioration of the environment.
"Education on conservation will make an impact when it aims to bring about a mass-scale social participation to achieve sustainability based on informed decision-making," he shares.
Protecting the environment is every person's duty as a resident of the planet. Every one of us needs to make small differences in our own ways. When every person can do one small thing to save the environment – using one less plastic cup or carrying cloth shopping bags – the earth can gradually heal.
This Nature Conservation Day, let's take a step toward preserving the environment and saving it for a better future.
---
BYJU'S Education for All is on a mission to empower 10 million children by 2025 with education. Through the BYJU'S Give programme, you can contribute to this movement and help children with quality digital learning. You can donate an old device, which we will refurbish, and then use the money raised to buy a new device. In case you do not have a device, you can also donate to an NGO partner, who will use the funds to buy devices for children.
In both cases, we will load our BYJU'S Think & Learn premium content onto these devices and distribute them to children in need.
Also Read: World Malala Day: How Jeevith and Rida Stood up for Education Despite the Hurdles