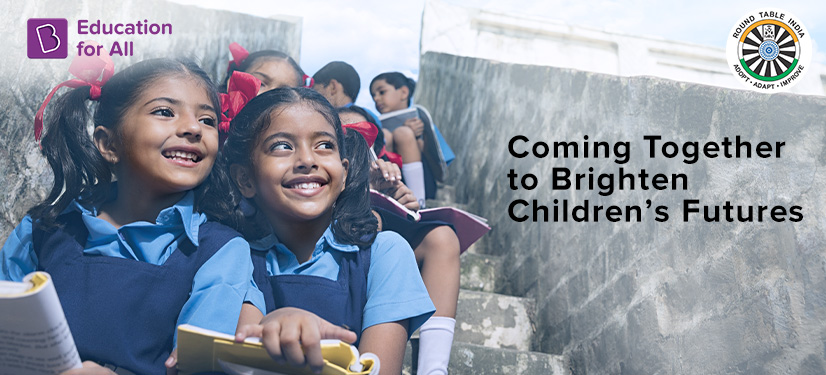 Everywhere around us, there are several urgencies that call for attention and help – be it the increasing poverty or the slowly deteriorating planet. But most often, people do not have the time or resources, enough to make a difference.
However, the members of one particular organisation, are not only work their own jobs for a living, but come together to help create an impact within the society, especially with education.
Round Table India is an organisation which aims to promote service, fellowship, and goodwill in national and international affairs. It is a volunteer-led group of men between the age group of 18 and 40 called "tablers", who have risen above personal concerns to seek and serve the larger needs of the community, sustainable community-building projects, and community service initiatives since 1962.
From educating children to developing the community & environment, these tablers are passionate about making a difference with their families.
Spreading Kindness Together
"We are completely zero-overhead organisation and have come together solely for our passion to serve the community. While we also have regular jobs, we come together to fund and work towards different social causes," says Sachin Talreja, Chairman, Bangalore North Round Table 25 for the tabling year 2021-22
One of the major projects of Round Table India is Freedom Through Education (FTE). Through this project, Round Table India identifies schools operating through dilapidated or open structures. Most of these schools have land available, but are unable to afford the construction of full-fledged physical infrastructure. To these schools, RTI hands over newly constructed school blocks to the existing school administration.
"We identify the government schools that require infrastructure support, and develop them according to their need and requirements. While some schools may require complete enhancement, many require us to build just one or two portions of their infrastructure," says Amit Jain, Publicity Convenor, Bangalore North Round Table 25 for the Tabling Year 2021-22
The infrastructure of the schools includes deep tube-wells for sanitation, toilets, lights & fans, classroom furniture, science laboratories, filtered drinking water system, libraries, and computer labs.
So far, it has completed over 3149 projects & 7505 classrooms, designed to impact over 7.9 million children.
The organisation also has been conducting the 'Flight of Fantasy' for many underprivileged children of the FTE school. Through this, they take the children on flights, luxury cars, trains, etc. to different places, just for leisure and good times.
The COVID-19 pandemic was a wake-up call for Round Table India. While many were constrained within the limits of their homes, millions of others were stranded with nowhere to go. So, the members of RTI were quick on their toes to help the worst impacted with essentials. So far, they've collectively distributed over 75 lakh meals (including rations) to the needy across India, with the support of other NGOs and corporates, impacting over 83,000 people across 8 Indian cities, with the support of other NGOs and corporates.
Another project, HEAL, is focussed on improving the medical infrastructure and has executed 20 projects under the initiative. It entails building augmentation & repairs, creation of special wards, toilets, donation of medical equipment like ventilators, COVID-19 vaccine refrigerators, oxygen line systems, oxygen concentrators, ambulance, and hospital beds.
Apart from these, the tablers are also involved in disaster relief, community service, as well as sustainability projects.
"We have about 5000 members across India who volunteer their time for every cause," says Amit.
Round Table India & BYJU'S Education for All
To further enhance its FTE project, Round Table India has joined hands with BYJU'S Education for All. Through this partnership, we will be helping children with digital learning content from BYJU'S, with the united mission of making learning accessible for all.
"With the help of BYJU'S, we're trying to convert the schools we have constructed so far into smart learning centres," says Sachin.
He adds, "We work closely with these schools, and have specific slots to take classes for the children. We are trying to allocate at least 4 hours a week with BYJU'S content."
BYJU'S Education has partnered with over 115 NGOs to further make digital education accessible to children in India. Together, with our partners like Round Table India, we hope to reach children from every corner in India with access to education.
---
BYJU'S Education for All is on a mission to empower 10 million children by 2025 with education. Through the BYJU'S Give programme, you can contribute to this movement and help children with quality digital learning. You can donate an old device, which we will refurbish, and then use the money raised to buy a new device. In case you do not have a device, you can also donate to an NGO partner, who will use the funds to buy devices for children.
In both cases, we will load our BYJU'S Think & Learn premium content onto these devices and distribute them to children in need.
Also Read: How Go Dharmic is Spreading Love and Service Across the World