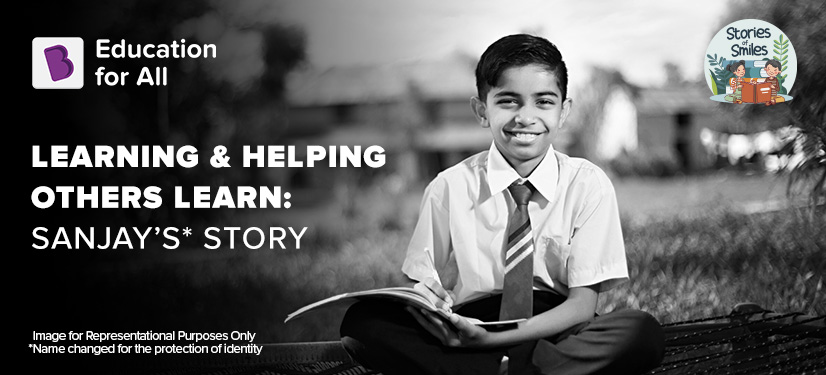 Children across the world are filled with hopes and aspirations of becoming the best version of themselves. Sanjay* from Khakripara, Jharkhand, too, was one such student who was a jack of all trades.
Before the pandemic, the class 6 student was a very active and popular student of his school. He had a lot of friends, and would participate in all school activities. According to his teachers at the Upper Middle Government School, Khakripara, he is exceptionally intelligent and hard working. In fact, he was even awarded for his regular attendance, sports, and more.
In every sense, Sanjay was a promising student and both, his parents and his teachers were proud of him.
However, the COVID-19 pandemic shifted school education to the virtual world. Like many other children, Sanjay was not able to attend classes because of the lack of a digital device. For Sanjay, who was filled with hopes and dreams, life came to a standstill.
To his luck, Sanjay received a tab from ALIG Society which was also loaded with free BYJU'S learning content. With the tab, he is able to regularly practice subjects including Maths and Science. While he was going for a different coaching class for the same subjects, once he received the BYJU'S course, he stopped since he was able to study at the comfort of his home.
"With the help of BYJU'S classes, my doubts are getting cleared one by one. My parents are also very happy by seeing my studies continuing. While school has reopened, I am able to practice with the BYJU'S App every day after school hours," Sanjay tells us.
But Sanjay didn't want to keep the learning to himself. He now invites all his friends to study from his device. Together, they discuss the subjects after school at a set time every day, and learn more with each other's support. They also prepared notes from the content which helped them revise concepts and clear their exams.
"I want to be able to help more children in my area to study with the help of the BYJU'S content and get better opportunities for their future. I also want to join ALIG society and make a difference with education," says Sachin.
BYJU'S Education for All has partnered with about 115+ NGOs and counting, to help children with access to digital education. Together, with their support, we hope to empower 10 million children by 2025.
*Name changed for the protection of identity
---
BYJU'S Education for All is on a mission to empower 10 million children by 2025 with education. Through the BYJU'S Give programme, you can contribute to this movement and help children with quality digital learning. You can donate an old device, which we will refurbish, and then use the money raised to buy a new device. In case you do not have a device, you can also donate to an NGO partner, who will use the funds to buy devices for children.
In both cases, we will load our BYJU'S Think & Learn premium content onto these devices and distribute them to children in need.
Also Read: A Step Towards Fulfilling Jyoti's Dreams of Becoming a Doctor