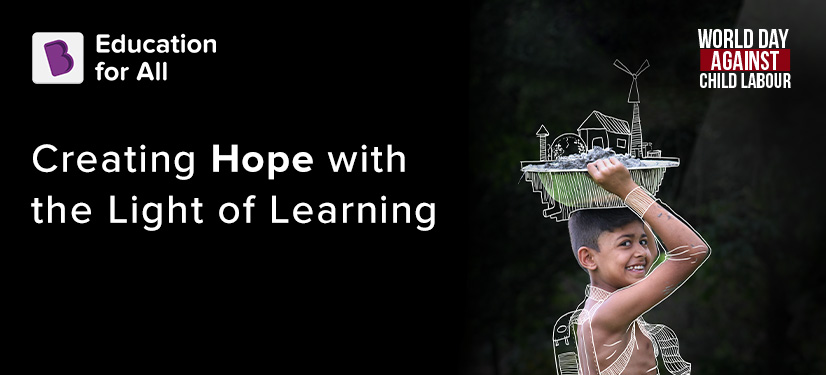 Every day, we come across millions of children under heartbreaking circumstances of labour. On a hot, sunny day on the streets, you'd almost always find a little boy polishing shoes on the roadside, or a little girl selling flowers amidst the stagnant traffic, battling the unforgiving heat, whilst hoping to earn a day's meal.
The COVID-19 pandemic was no boon for these children. Being pulled out of their safe spaces in schools, having no access to education, labour was their only option. According a report by UNICEF, about 160 million children were at the risk of child labour at the beginning of the pandemic.
Every year, 12 June is marked as World Day Against Child Labour to raise awareness and prevent child labour. In India, this awareness becomes crucial as about 10 million children under the age of 14 are involved in child labour. (Census 2011)
Across many developing countries, there are millions of families that are reeling in generations of poverty. The ability for them to grow beyond their circle is often restricted due to a lack of affordable and quality resources. While many children may have access to education which could show them a bright future, their familial struggles show otherwise.
What Causes Child Labour?
In many cases, child labour is rarely a choice. The extreme conditions of poverty, harsh calamities, lack of accessible resources and several other factors force children into child labour.
• Poverty – Most often, the root cause of child labour is poverty. Whenever a family finds itself in trouble economically, children are sent out to work for additional income.
• Lack of Quality Education – Many children fall into generations of poverty because they rarely have a chance to study. Even if they do, it may not be sufficient to find a spot in today's world of competition.
• Calamities – Whenever a disaster strikes, be it a natural one or one brought in by human conflict, it can destroy livelihoods entirely. In such situations, all members of the family, including the children, look for work opportunities to make ends meet.
• Lack of Understanding of Child Labour – When families believe that child labour is a good character-building exercise, they often forget the detrimental impact it can have on the health, well-being, and safety of children and their futures.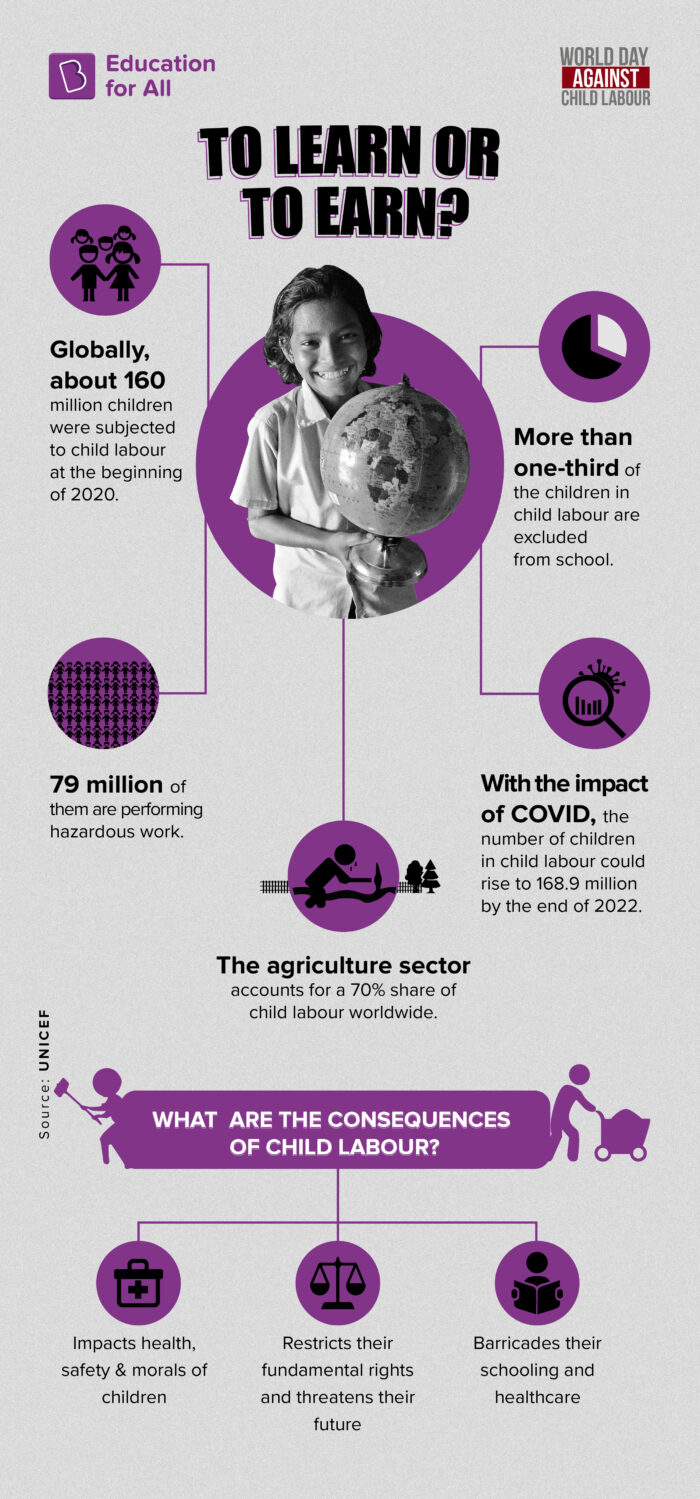 While these factors play a major role in forcing children into labour, providing them with a chance to grow and learn creates hope in their lives; a hope that can probably change their future for the better, and break the generational cycle of poverty.
Here's how one student, Ali* found hope with the light of learning.
Overcoming Hurdles with Accessible Education
Ali is a promising student who resides in the Khargone district of Madhya Pradesh. He is remarkable at his studies and often gets praised by his teachers at the nearby government school for his hard work. In fact, Ali wants to spend more time outside school hours to improve his academics, but his family's financial situation doesn't allow him to.
Ali hails from a humble background and lives with his parents and two siblings. Being a parent to three children, Ali's father, a daily wager who is the sole breadwinner of the family, cannot make ends meet. To support the family, Ali works at his uncle's restaurant part-time.
One day he came across the NGO Manthan Sahara which was helping students from underserved backgrounds get access to a free BYJU'S learning course. Ali immediately signed up for it, hoping to improve his studies.
"Ever since the app was activated on my phone, I have been regularly using the app. The video tutorials have now made the concepts easy for me, and I can grasp all the concepts easily. That too, at any place and time," says Ali.
Spreading Hope with Our Partners
BYJU'S Education for All has partnered with over 115+ NGOs to help children with quality education. While many children are forced into child labour due to a lack of resources, we at BYJU'S EFA along with our partners hope to encourage more children to grow with the power of education.
Some of our NGO partners including Save The Children, CRY – Child Rights & You, Raza Education & Welfare Society, and Kailash Satyarthi Children's Foundation are not only educating children but also lifting them out of troubles that can limit their future.
On World Day Against Child Labour, we celebrate our NGO partners who have been tirelessly working to ensure that children lead better lives in every aspect.
Jyoti Gandhi, Deputy Director, Save The Children, says, "Should children learn or earn? What would you choose for a child? On World Day Against Child Labour, it is important for us to fight the social evil of child labour together."
BYJU'S Education for All hopes to spread the light of learning to all children in need across India with the support of our NGO partners. While we still have a long way to go, we are trying to help children by making education accessible.
This World Day Against Child Labour, let us join hands and ensure that children don't have to learn the hard way. Instead, let's give them a fighting chance and help them towards a future full of hope.
If you know a child in need within your circles, coming from a humble background, who can benefit from a free BYJU'S course, you can reach out to us: educationforall@byjus.com.
---
BYJU'S Education for All is on a mission to empower 10 million children by 2025 with education. Through the BYJU'S Give programme, you can contribute to this movement and help children with quality digital learning. You can donate an old device, which we will refurbish, and then use the money raised to buy a new device. In case you do not have a device, you can also donate to an NGO partner, who will use the funds to buy devices for children.
In both cases, we will load our BYJU'S Think & Learn premium content onto these devices and distribute them to children in need.
Also Read: BYJU'S EFA Spreads the Wings of Learning with Technology