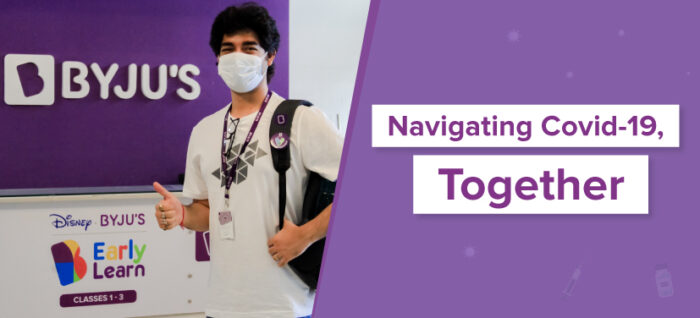 Even with increased alertness and healthcare initiatives to curb Covid-19, our experiences have taught us that being prepared is key to fighting this pandemic. At BYJU'S, we approached the second wave of the pandemic with the utmost caution, care, and actionable insights. Along the way, we also implemented initiatives that helped us prepare for the challenges ahead and safeguard the health of our employees and their families. 
We understand that a health emergency like this can have a far-reaching effect on an individual's life and family. And having stood by our BYJUites through these difficult times, we will continue to direct all our energies and efforts towards supporting them, in every way possible.
Read on the learn more about our employee-driven initiatives, and how we continue to fight this pandemic together:
CEO'S COVID Fund for the BYJU'S Family
As the first step towards supporting BYJUites through these times of hardships, we have set up a ₹20 crore CEO's fund. One of our early employee-driven initiatives, this fund covers COVID-19 related medical expenses and hospitalisation costs for BYJUites, their parents, spouse and children. 
If the unfortunate situation arises where a member of our team or their family member needs hospitalisation due to COVID-19, the BYJUite can seek reimbursement of up to ₹ 5 lakhs from the CEO's Fund for the same. We aim to reimburse every request made to the fund within 7 days from when it was raised. 
With this initiative, we hope to provide the BYJU'S family with some support as we navigate this challenging situation together. 
Also Read: United we stand: CEO fund to cover COVID treatment costs of BYJU'S employees and their families
BYJU'S Covid Vaccination Drive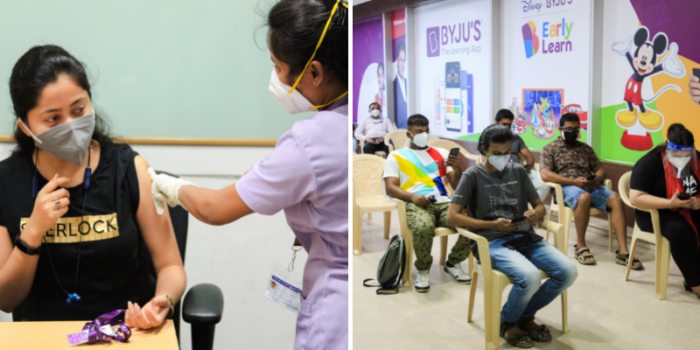 To help BYJUites with their healthcare needs, we have also initiated a "free and facilitated" vaccination drive for all employees. As part of this initiative, we are working with multiple service providers and trusted aggregators to offer a safe and hassle-free corporate vaccination drive, PAN India.
Given the shortage of supply and other eminent problems, this vaccination drive is aimed at supporting the BYJU'S family with their healthcare needs. So far, we have administered close to 4000+ doses to fellow BYJUites and more are in the pipeline. (Those who are yet to receive their vaccine shot can sign up for their slot through the next mail from the BYJU'S Vaccination Drive. Watch out for emails from: [email protected]).
Time Off for Employees
The severity of the current situation is such that many of us are dealing with family members who have tested positive for COVID-19. In these difficult circumstances, we urge every member of Team BYJU'S to prioritise their physical and mental health and that of their family's. The message comes straight from our CEO and Founder Byju Raveendran. He shares:
"If you are going through a tough time, I urge you, please don't hesitate to take time off as you care for your family. You can speak to your team heads so that they can support you in every way possible."
To stand by this pledge, we have hence introduced a change in our leave policy. In the unfortunate event that our employee or any of their family members is hospitalised due to coronavirus, we are providing BYJUites with additional COVID privilege leaves. These are paid leaves and hopefully will support our employees who are hospitalised or are caring for a hospitalised family member. (For further clarity and information, BYJUites can reach out to their team heads or the concerned HRBP).
Employee Wellness with BYJU'S Let's Talk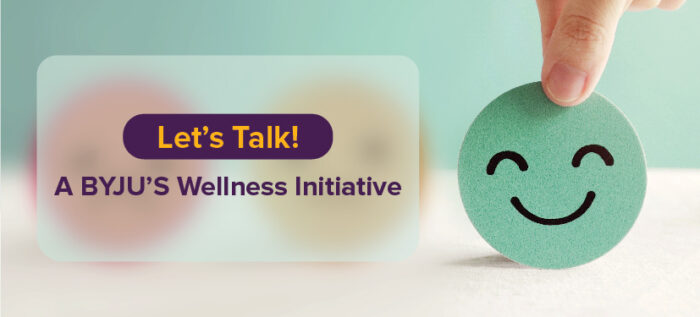 If prioritizing physical health is one half of the wellness journey, the other (and perhaps more significant) half involves checking in on mental and emotional health. In these extraordinary times, we encourage every member of Team BYJU'S to initiate these conversations, seek out their colleague or respective team leads' help, and take every step necessary to put their wellbeing above everything else. And towards this end, we believe, BYJU'S Let's Talk initiative will play a vital role. 
An employee wellness programme, BYJU'S Let's Talk was launched in partnership with YourDOST and provides access to 24X7, one-on-one online counselling via chat in real-time. BYJUites can book chat, telephonic or video counselling appointments with an expert and also get free access to self-assessment tests and wellness resources.
Over 5000 BYJUites have so far connected and sought guidance from the experts at YourDOST. With these numbers growing, we certainly hope this is the beginning of healthy and meaningful conversations around people's mental health and well-being.
Also Read: Introducing BYJU'S Let's Talk – an employee wellness initiative | World Mental Health Day
Celebrating the Samaritan Spirit
While we play our part in helping our employees navigate the challenges of the COVID-19 pandemic, we also want to take a moment and acknowledge the heroes that have emerged during this crisis. Like true blue Samaritans, some incredible people at BYJU'S have come to the forefront. And they are going above and beyond their roles to volunteer and help those in need. Starting with essentials like food and medicine to life-saving drugs, blood donations and more. (Check out some of their heartwarming stories here).
To come out of this ever-changing health scenario, will require a collaborative effort. At BYJU'S we are committed to safeguarding the health and safety of every person who is ensuring that children can continue learning, even in these difficult times. And this applies to the extended family – including parents, children, spouse, and near and dear ones of our employees. 
We are putting our community first at the moment!
Like what you read? Discover more such stories about our work, people, and teams on Life at BYJU'S. And to explore open roles, check out Careers at BYJU'S.