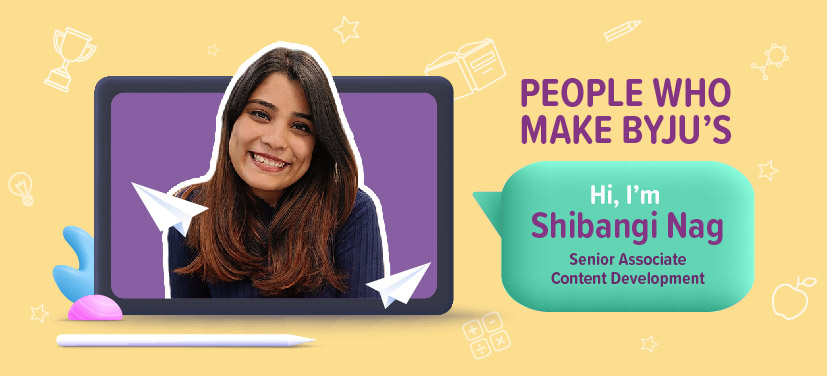 "Language acquisition, especially spoken, depends greatly on the environment and is based on application," says Shibangi Nag. "One-way teaching will not help kids understand the nuances of a language, it's the application-based learning that proves to be the best teacher." 
A Senior Associate of Content Development at BYJU'S, Shibangi is part of a team that designs and brings to life English lessons for middle school students. For her, English, interestingly enough, was never the go-to spoken language at home or while growing up. But it was when she moved to Bangalore for her M.A. in Education that she really understood the nuances of the subject. 
"My spoken English improved drastically as this was the first time I was using the language every day. That's when I realised the importance of the environment and application in language acquisition, and this is what the team and I try to imbibe in curriculum design as well," says the BYJUite. 
Also Read: How BYJUite Anjali Gupta's career is a journey of diverse opportunities and continuous learning
Making learning fun and engaging
After working as a copy-editor in the quality control team at BYJU'S for over a year, Shibangi's interest in pedagogy and curriculum development prompted her to explore new avenues. "I wanted to create curriculum and learning content for students to help them understand the nuances of grammar in a fun, engaging manner," she shares, adding, "Currently, I lead and work closely with a small but robust team responsible for designing curriculum." 
An avid singer, Shibangi has also written, sung, and narrated poems and songs in several lessons, to make them more engaging. "It has been an interesting experience, getting to combine my love for singing with my work," she tells us. 
But that's not the only aspect of her job that drives Shibangi to push the envelope. She adds, "The amount of creative liberty I have here is unparalleled. There's no limit to ideation and there's always someone to help and bring those ideas to fruition, no matter your seniority or designation." 
Also Read: Creating an immersive, one-of-a-kind phygital learning experience: Harshit Chehal on what makes BYJU'S Tuition Center unique
Embracing leadership and more
In her own words, working at BYJU'S has been a smooth learning curve. From unlearning what she thought was essential to picking up tricks of the trade, Shibangi's journey has been one of growth and persistence. "Initially, I was hesitant to ask for help. But over time, I have learned that people don't judge you if you request their support; instead, they help you in all earnestness. At the end of the day, it's all about teamwork and delivering the best learning experiences through collaboration," she says. 
Shibangi also got to manage her own team in her current position, something she had never done before. "Leadership skills are something that I have inculcated slowly and it's still a work in progress," she continues, "I don't believe in micromanaging; instead I give my team members the autonomy and ownership of their own projects, something that I have learned from my own seniors at BYJU'S." 
This being her first job — and also a firsthand exposure to what it means to be a BYJUite — Shibangi has some great parting words for anyone looking to become one. "At BYJU'S, you get the opportunity to learn and grow and be a better version of yourself — both professionally and personally. You'll find people to believe in you and sometimes that's all we need — someone to believe in us," she quips. 
Also Read: When passion meets purpose: How Suraj Prakash navigated his career in animation at BYJU'S
Like what you read? Head to Life at BYJU'S to learn more about our work, people, and the stories that make us unique. To explore job opportunities, check out Careers at BYJU'S.