When we resumed work in the aftermath of the lockdown, says Mohnish Jaiswal, Vice President – Supply Chain, at BYJU'S, creating provisions for logistics, and in turn, uninterrupted learning, was difficult if not impossible. 
"There were two factors at play, one which was within our control and one which was not. The latter was related to external logistics requirements, in terms of third party support. But the bigger question was, how do we make sure that large volumes of order didn't remain unprocessed," he continues. "That's when we brought our people in. And with operations resuming, our priority was ensuring the health and safety of BYJUites."
More than anything, explains Mohnish, what we focussed on was providing support to our team members and instilling confidence that come what may, we are there by your side.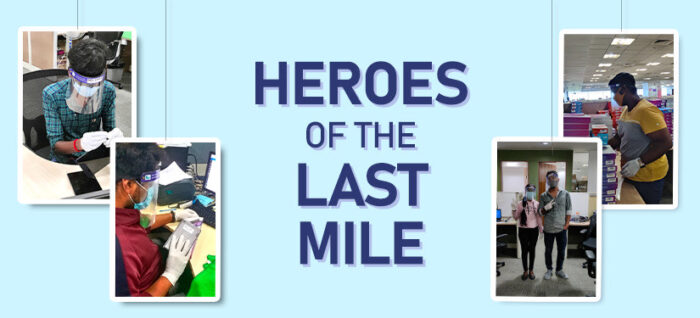 Watch: From IIT to Harvard and now BYJU'S, Tannishtha Sanyal is charting her own course
In the light of the new normal, the challenges facing BYJU'S logistics team were many. The biggest among them was about the safety and health of the people who are at the heart of this team. These are BYJUites managing the inventory, movement of our physical products, and delivery and dispatch of tablets and other learning essentials.
In addition to the core members, the logistics arm of the organisation also includes BYJU'S blue-collar support staff who have been integral in overseeing the hygiene and maintenance of the physical spaces.
Together, this team of essential service providers has shouldered the responsibility for seamless operation during unprecedented times. Their hard work and resilience in the face of uncertainties have not only helped us weather the storm but also ensured that millions of students had access to quality learning. 
This is a story of grit and action; of people who came together against all odds to ensure that nothing puts a pause on learning. Not even a pandemic.
How BYJUites prepared for work in the new normal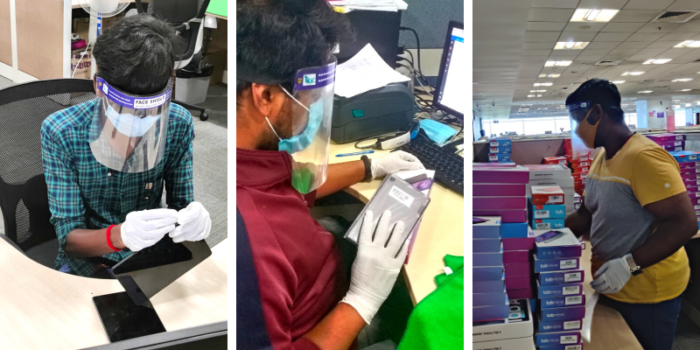 For work to resume, the first and foremost requirement was rearranging the office and BYJU'S warehouses in a way that it allowed for social distancing. Other high-priority measures included regular health checks, Covid tests of the employees, and absolute sanitisation of the workplace – a provision that BYJU'S leadership and Logistics team managers tackled head-on. 
"We were proactive in preparing our physical workplaces to meet the health and sanitary standards," explains Masum Hisaria, Manager, Logistics Team at BYJU'S.
"Earlier, the entire logistics team was working in a specified area. But now in the light of the pandemic and social distancing requirements, we have spread the team over different locations. In addition to this, we have provisions to conduct regular Covid tests. In case an employee tests positive, in keeping with government protocols, we have ensured that there are adequate treatment and quarantine facilities for BYJUites," he adds.
A few other measures have also been put in place keeping in mind the nature of workflow for logistics. This includes scratch-proof labelling of the learning products as essentials, distribution of manpower over different offices and warehouses, and increased collaboration between logistics and other departments to ensure a seamless workflow.
Also Read: CEO Message: New Year Wishes for BYJUites
Navigating changes, shifting dynamics in the workplace
When something as drastic and far-reaching as a pandemic happens, life and work are bound to alter its course. We are talking about a new work order, new socialisation norms, and more. But through all these, certain factors bind us together as a community. For BYJUites, who joined forces to shoulder the logistics responsibility, it was the sense of shared experiences.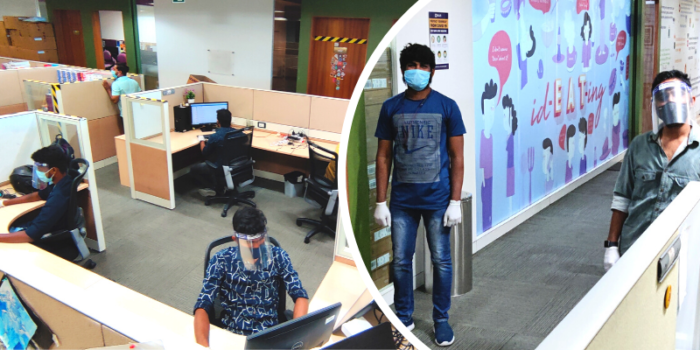 "It has not been an effortless journey," says Abhishek Abkari, Manager in the Logistics Team at BYJU'S. Abhishek has been in the logistics sector for a few years now, and while he is well-versed with the domain, he says operating in these times hasn't been easy.
"Restrictions on movement and multiple security checks across the city created new challenges. And for people living with their families, there was a fear of bringing back infection. But one thing kept us going, the fact that our work was helping children continue learning even in times like these," he explains. 
Pratibha Chettri, Team Lead in Supply Chain and Logistics, shares Ahishek's concerns and experiences. She says, "While wearing masks and gloves was key to reducing the chances of getting infected, operating in protective gears isn't a cakewalk." 
A socially-distanced work environment also narrows down the scope for workplace socialising, something that impacts office dynamics and relationship between colleagues. "Normally, we would all sit together in a cubicle, talk to each other, and share the day-to-day load. But now, it's not easy, socializing or connecting with our colleagues as we did before," she adds. 
Essentially, more than the actual work, BYJUites have had to mentally prepare for the impending challenges at work. And while there have been a few boulders along the way, everyone in the logistics teams is one with the idea that going through these experiences together, sharing concerns and worries, have helped them tide over the situation. 
"We were in this together," quips Hitesh Chajjer, Order Fulfillment Manager at BYJU'S, adding, "And, thanks to the preemptive measures taken to ensure the safety and health of BYJUites, it hasn't been a bumpy ride; rather one filled with experiences." 
Also Read: When you work with smart folks, you get smarter: Sarvjeet Singh, Lead iOS Engineer
Life lessons in agility, adaptability, and more
Amid all changes and experiences, BYJU'S last-mile logistics fleet set some exemplary milestones. By going the extra mile to ensure timely delivery and dispatch of BYJU'S learning products, this team has not only demonstrated outstanding teamwork but also what it takes to work towards a greater purpose.
"In times like these, health and hygiene are perhaps the most important things. But for a child, education is equally important. And as BYJUites, we have been working towards providing students with an essential service. It's an elevating feeling," says M. Roopini. Roopini started her career in BYJU'S as an Operations Associate. Now, after four years in the Logistics Team, she leads a team of her own, overseeing set-up and shipment of learning devices.
Roopini's takeaway from the last few months is no different than that of her colleagues. She shares the same earnestness with these heroes of the last mile, as she tells us what kept her inspired through this time. "My father was in the army, and his entire life and career have been motivated by the intent to serve the people of this country. I feel like I am driven by the same intent and motivation – to be of some service, through my work, to the children and the students."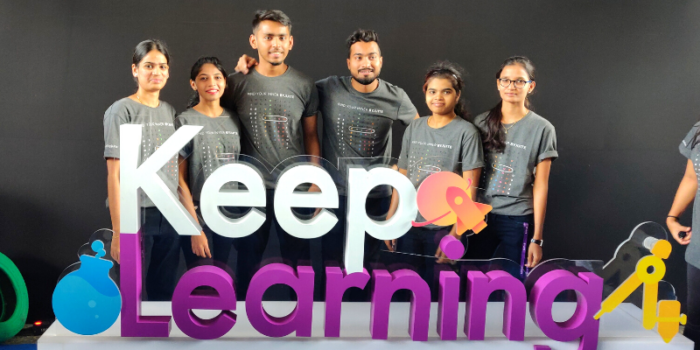 Another unifying factor for these BYJUites has been the sense of working towards a greater goal. "Everyone had this feeling that they were part of something big," shares Abhishek, "and that through their work, they were contributing to the society during these trying times. I would actually call these employees front-line warriors."
Abhishek's words are echoed by Anjali Gupta, who looks after production inventory and employee assets. She says, "Every company has a firefighter's team. We were working like the firefighters for BYJU'S during the lockdown."  
There is an important lesson in this whole experience. Apart from teamwork and stories of heart and resilience, the way BYJUites have managed to pivot and persist, reflect that nothing is impossible for teams that remain agile and adaptive to changes. Not even operating in demanding environments and delivering essentials that ensure learning remains uninterrupted.