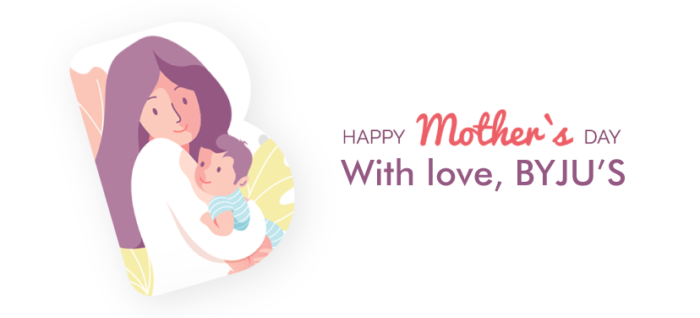 STRENGTH AND RESILIENCE! When talking about the incredible mothers at BYJU'S, who have perfected the balancing act of parenting during a pandemic, these two words best describe their spirit. And to be honest, there cannot be a better way to encapsulate and celebrate their valuable contribution to our workforce.
These are extraordinary women – leaders, contributors, mentors, and teachers – who are enabling us to drive the best possible outcomes for our students. Through their rich experiences, they have not only helped us build a work culture that's conducive to the needs of working mothers but also inspired us to keep up the good work. 
BYJU'S takes great pride in having these role models at different levels of leadership and learning from their journeys. We continue to support our working moms by creating an ecosystem that helps them nurture their dreams and goals, both at home and at work. 
This is a celebration of their journeys and stories, and for all you know, these stories might just move you to action!
Keep scrolling…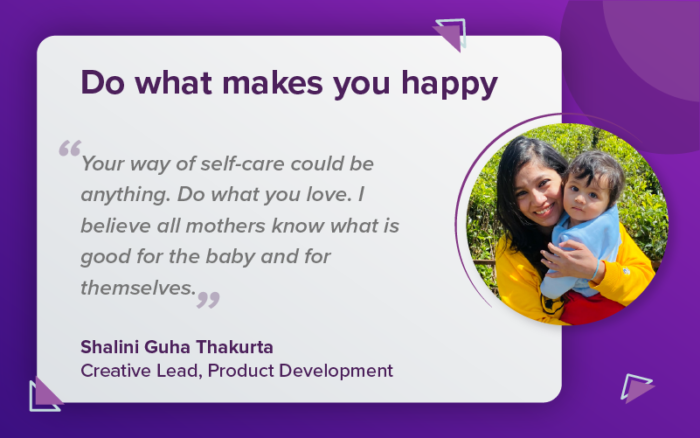 "I came back home after my delivery, and the very next day, a national lockdown was declared," begins Shalini Guha Thakurta, as she shares her experience of welcoming a newborn into the world during a pandemic.
The Creative Lead of Product Development at BYJU'S says, "It was tough not knowing much about what was happening around the world. I was worried about stepping out in case of an emergency. And I had to use the internet to track my baby's growth because it was a scary time to go to the doctors for check-ups."
But through all this, the one thing that has come to her aid is having a balanced approach to work and family. "They say, if you aren't happy, your family can't be happy, right? And for you to be happy, you need to take time out for yourself. Your way of self-care could be anything. Do what you love. For me, I like to browse the internet and eat certain things to be happy. What works for me may not work for you. Moreover, I believe all mothers know what is good for the baby as well as themselves," she tells us.
Shalini also has a piece of advice for all new mothers:
"Take care of your health for the sake of your family. I credit my family for keeping me sane throughout this critical phase in my life. Being loved is what makes one feel strong. And I have gained a lot of strength from my family's love and support."
Also Read: Balasubramanian Reveals What Goes On Behind The Scenes at BYJU'S Game Pod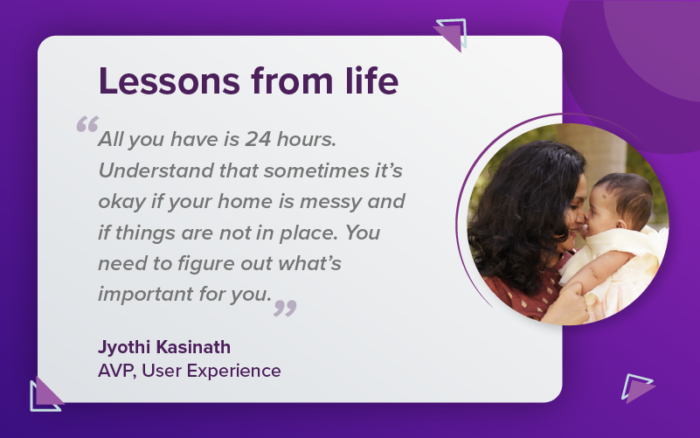 "Being a mom teaches you quite a lot. You know how they say 'it will be difficult to manage work and home', you will be up all night'… all that happened to me. But I have the best support system, both in my family and at work."
That's Jyothi Kasinath, AVP, User Experience, who manages the operations of online classes at BYJU'S. A first-time mother, she welcomed her baby in August last year. Since then, she's been taking baby steps to return to work. "My family has been supportive of my decision. My husband, who was on paternity leave, would take care of the baby when I'm on calls."
On her part, though, Jyothi is diligent about her health. It's an integral aspect of striking a balance as a working mother, she says. "Every day, I do yoga for an hour and that's my me-time. Similarly, everyone has to figure out what works for them. All you have are 24 hours. Sometimes it's okay if your home is messy and if things are not in place." 
That said, it's not all that easy to pull it off, and one must be prepared for the bad days as well. She quips, "All the suggestions you get will sound simple, but there are hard days where you'll feel like giving up. But you know what? You can just snap out of it and take it easy on those days."
Watch: Dhilip Kumar Decodes the Art of Building Next-Gen Game Technology for Learning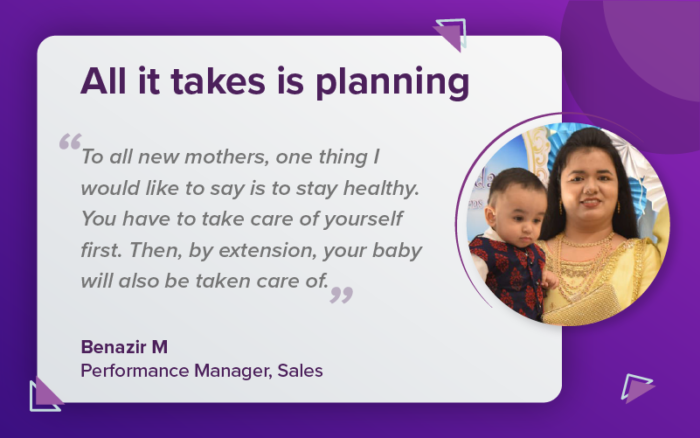 Benazir M's baby boy is just over a year old. She had him a day before the first lockdown was announced and it's been a rollercoaster of a ride ever since. She recollects, "My journey to motherhood has been both terrifying and satisfying at the same time. I had all the anxieties of a first-time mother. Although it felt good to be able to spend all of my time with the baby, it was quite difficult to adjust to working from home."
Benazir, who works as Performance Manager, Sales, at our Chennai office, tells us how she navigated unprecedented hurdles during the lockdown. "I was completely clueless at first. There were times I felt bad for not being able to spend enough time with my baby. But soon, I realised that the key is planning. So I planned my days and scheduled all my work daily. What also helped was the support that poured in from my teammates."
While she swears by an organised way of life, Benazir insists that every mother needs to cut some slack for themselves. "Self-care is very important. I would start my day with meditation and prayers. And I would schedule work breaks to spend time with my child. All new mothers have to take care of themselves first. Then, by extension, their child will also be taken care of."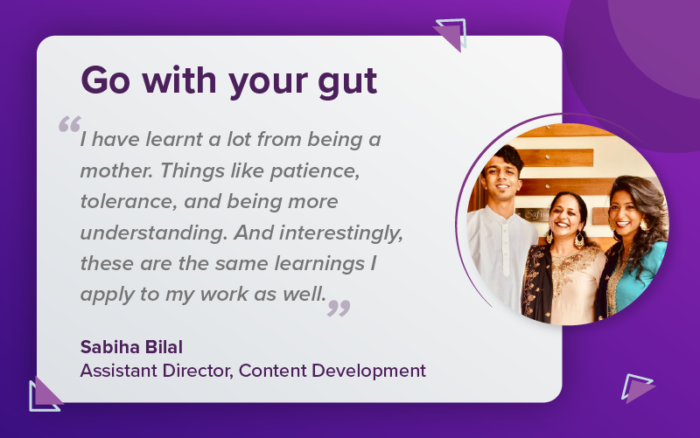 Sabiha Bilal, Assistant Director, Content Development, has been teaching children for over 20 years now. For her, motherhood is closely linked to her experiences as a teacher.
"When I started teaching, I put myself in a student's shoes – I did everything that a student could imagine and wished to do in his or her life. And the same goes for motherhood as well. It was only when I became a mother that I realised what my mother was doing for me, you know! I realised her value in my life."
And while this helped her in navigating her journey as a mother, Sabiha insists that nothing can really prepare one for this important role of motherhood. "Nobody teaches you how to be a mother. Of course, you will have people telling you what to do and what not, but then it's mostly your own gut that guides you through everything."
"I have learnt a lot from my experience though. Mainly things like patience, tolerance, and being more understanding. And, interestingly, these are the same learnings I apply to my work as well."
As a teacher, these are virtues that go a long way in helping students, stresses Sabiha. Especially when it comes to giving each student personalised attention and care. 
Also Read: A Sound Engineer's Journey to BYJU'S and Why It's Been an Experience Like No Other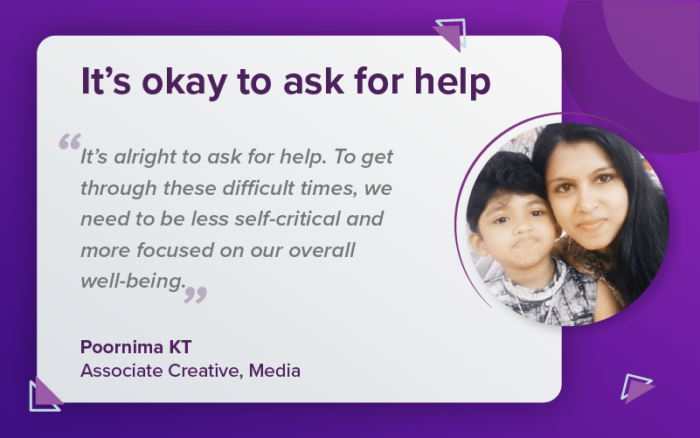 Sometimes being a mother means thinking from your child's perspective. And at other times, it requires being a role model and setting examples that the child is proud to emulate in the future. Poornima KT is one such BYJU'S mom, who, through her work and career choices, is paving a path that she hopes one day will inspire and motivate her five-year-old daughter Monishka to achieve great things.
"We all wish the best life for our children, right? I want to raise my daughter in a way that she gets the best education. She needs to see and know that her mother is doing everything to chase her own dreams and goals. So that when she grows up, she too has the same confidence and passion to follow her own heart," says the graphic designer.  
As a working mother, she stresses, it's also crucial to set the right example at home. And this includes making children more aware of the realities of working parents, including their sacrifices and efforts to strike the right balance between their work and families.
"My little girl will often come and ask me, 'What is wrong, how can I help you?" These simple words are just enough to push aside all negativity," says Poornima, while going on to share one key piece of advice. "It's alright to ask for help. To get through these difficult times, we need to be less self-critical and more focused on our overall well-being."
The struggles may be different for every mother but the driving force behind their sacrifice remains universal. These incredible BYJU'S moms inspire us by striking a fine balance between work and home. All while staying true to their passion and working towards their goal.
To them, and to every other mother doing her best right now, we want to say thank you and a very happy Mother's Day!
Like what you read? Discover more such stories about our work, people, and teams on Life at BYJU'S. And to explore open roles, check out Careers at BYJU'S.
(Stories have been put together by our Storyweavers, Fathima Ashraf and Sutrishna Ghosh)