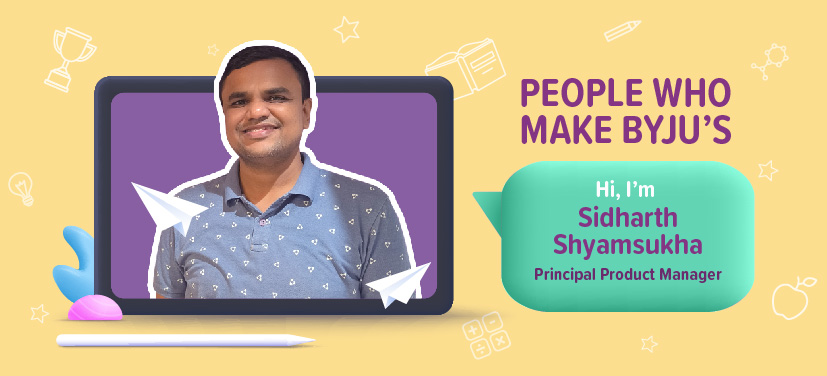 "The problem that edtech, especially BYJU'S, is solving, is educating a generation of learners and having a positive impact on their lives. Education can enable and empower one to enhance one's livelihood;  the sense of satisfaction that one gets from working in this sector is unparalleled," says Sidharth Shyamsukha. "This is why I decided to move to edtech when I got the chance," adds the Principal Product Manager at BYJU'S. 
Over the past few months, Sidharth and his team have been working to optimise the learning experience at BYJU'S Tuition Centre (BTC). "I'm responsible for enhancing student experience at the centres by enabling them to optimally use all the learning content, activities, and facilities on offer. We want our students to have the ideal experience, whether online or offline, and we're constantly identifying the best methods to ensure that," he explains. 
Also Read: Learnings, transformation, and growth: Aditya Kini on his sales trajectory at BYJU'S
Discovering his passion for edtech
After completing his engineering and management studies, Sidharth worked with multiple companies in various sectors. "But there was this desire to create a greater social impact with my work," he says. "When I got the opportunity to join BYJU'S and create that impact, I took it up immediately. I now realise that edtech has always been my calling," he adds.  
"The best part about working at BYJU'S is not just the problem we're trying to solve but the sheer scale at which we operate," he says. "Ever since I joined in March this year, I could see my work having a real-world impact. From the kind of projects we work on to the way we execute them, everything is different and dynamic. That has been one of my biggest learnings at BYJU'S," adds the BYJUite. 
Sidharth says that the real-world impact of his role also inspires and drives him to perform better. "It's the most exciting part. And being in Product, I get to drive the entire learning experience for our students. It's a huge responsibility and this opportunity has helped me grow and develop as a professional."  
Also Read: How Anisha Varghese went from being a self-taught UI/UX designer to Lead Product Designer at BYJU'S
Best of both worlds at BTC
"Before BTC, I had worked only on digital products. This is the first time I have worked with a phygital product that leverages the best of online and offline learning," says Sidharth, adding, "That in itself is a unique experience. And the fact that everything we do at BYJU'S is driven by data and metrics, makes our work even more effective."
The best thing about BYJU'S, he says, is that everyone understands the significance of their job and the goals associated with it. "We are not building something just for the sake of it, but our vision to impact learners is embedded into the very fabric of our work culture. THAT is essential in a product-based ecosystem and something BYJU'S has in abundance." 
This, he believes, is why people should seek a career at BYJU'S. "When you impart education, you're changing the world. A person becomes independent and is enabled to change the lives of others as well, if they're educated," he says. "And BYJU'S is leading the charge when it comes to innovation in this sector. Working with an edtech leader enables one to explore and expand one's horizons," concludes Sidharth. 
Also Read: A year of learnings and endless opportunities: Sunkara Vamsi Krishna looks back at one BYJUite year
Like what you read? Head to Life at BYJU'S to learn more about our work, people, and the stories that make us unique. To explore job opportunities, check out Careers at BYJU'S.