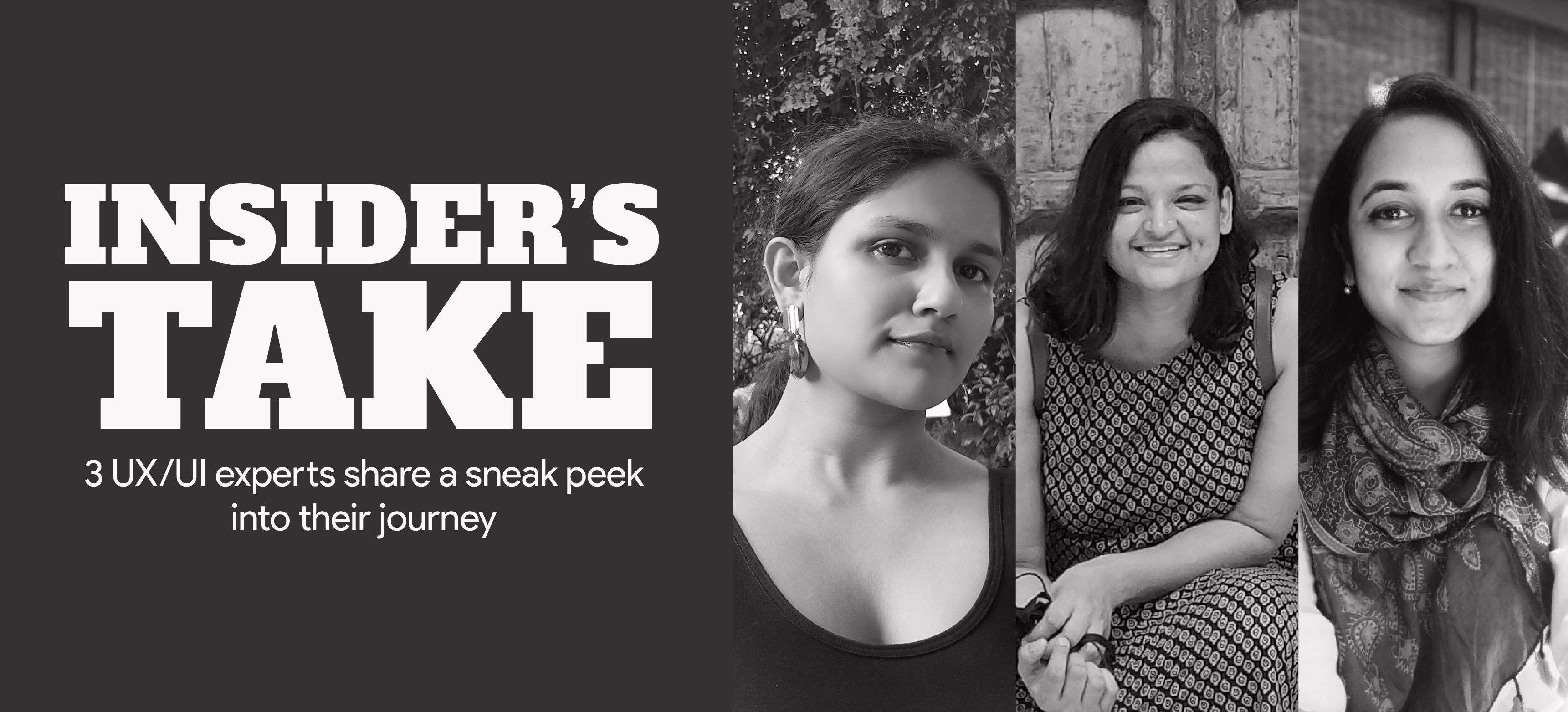 There's no time like the present — this statement is perhaps most relevant to the aspiring and existing UX/UI designers and researchers in the country! 
Only in the last quarter of 2021, job site Indeed reported a whopping 61% increase in demand for UX/UI roles. While that's really motivating, what's more inspiring is that this domain is one of the few that boasts more women than men. According to a survey by Career Explorer, in the US over 53% of UX/UI roles are held by women. 
But before we get into that, let's understand what encompasses UX/UI. Abbreviation for User Interface, UI deals with how an app, website or software appears to the user. UX or User Experience on the other hand deals with how the user interacts with these aspects (whether it's easy to navigate or not). It's a fundamental aspect to how we look at, utilise and interact with technology in a digital era. 
At BYJU'S, UX/UI is unsurprisingly an integral part of the process; it determines how our learners interact with our learning products. And with a substantial chunk of our efforts being directed towards the conceptualisation and designing of learning products, tools and programmes, the team here is home to some of the best talent in the UX/UI domain (with women comprising a significant portion of this talentforce). 
In conversation with Tejaswini Kalmegh, Rucha Vakhariya and Ayushi Johari, we bring you an insider's glimpse of the team at BYJU'S. Join in, as this talented young force share stories of how they are paving the way for the next generation of women UX/UI designers and researchers. 
Also Read: BYJUites Drop Some Truths And Debunk Myths Around The World Of UX Research
Designer by chance 
Hailing from Nagpur, Tejaswini Kalmegh was not quite familiar with UX/UI design until she landed a project to redesign a website. "I was working for a Nagpur-based startup," she recalls, "when I chanced upon this domain. Being a graphic designer, I knew UX/UI was something I could pivot to and that's exactly what I did." 
But graphic designing wasn't always the goal. Tejaswini pursued her graduation in civil engineering and it was during college that her love for creative pursuits came to the fore. "My interest in design also stems from my mother; she is immensely creative and inspired in me the same passion. This was later reinforced in college, when I was designing logos, banners and posters for the cultural programmes," Tejaswini shares. 
However, once she decided to pursue UX/UI design, there was no looking back for this designer. She joined BYJU'S a year and a half ago, and since then has been working as a UX/UI designer, overseeing the applications and software used by the sales team. "The best part about working at BYJU'S is the scope of designing that comes my way. I have not only worked on website and application but have also dabbled in game design. The potential to learn and grow is aplenty," quips the BYJUite.  
And what does she recommend for anyone who desires to pursue a career in UX/UI? "Hone your basics," Tejaswini says, "UX/UI design needs a strong foundation in design thinking. Designers also need to be great listeners and empathetic by nature. These are qualities I have developed on the job and believe to be absolutely essential." 
Learning on the job 
Unlike Tejaswini, Rucha Vakhariya took a more traditional route to UX/UI design. She went on to pursue a Master's degree in Communication Design from the Indian Institute of Technology (IIT) Bombay, right after her graduation. "Whatever I know about UX design today, I have learnt on the job," she tells us, "UI design on the other hand was more more natural to me, as I had studied the principles of it in college." 
As the Product Design Manager, Rucha and her team are instrumental to how students experience some of BYJU'S core learning products. "I joined this team as a Senior Product Designer and was promoted to my current position only a few months later," she shares. "This is the first time I am leading a team of my own and the experience has taught me so much. As designers, we have to be agile and empathetic; imbibing these skills within my team has been a great learning curve."
Also Read: Pedaling His Way to Fitness: How a Humble Two-wheeler Changed Sainath L's Life
If qualities like empathy and agility are core to this field, having more women leaders is also critical to set the right examples and serve as role models. According to the Career Explorer survey, only 11% of leadership positions in the UX/UI space are held by women. "While the entry-level positions are quite equally represented, the change also needs to be reflected in the leadership. In my team, we are slowly but gradually changing the narrative, as more and more brilliant, young minds take charge of the tech," Rucha explains.
Researcher by design 
It was early on in her career that Ayushi Johari realised that research is where her heart is. Although the BYJUite began as a designer-cum-researcher at her first job, she's now delighted to focus on the latter as an UX researcher at BYJU'S. "I'm really fascinated by who the users are and what their motivations and aspirations are. At BYJU'S, it's even more interesting because the users are students and it's insightful to interact with them and understand the future of learning," says Ayushi. 
There's another compelling factor that drew Ayushi to this field. As she explains, "Besides students, I also get the opportunity to interact with parents and understand their perspective and expectations from their children."
UX Research at BYJU'S is a cross-vertical team and the data sourced by Ayushi and her team shape how our users experience our cutting-edge learning products. "There's so much that goes behind UX/UI design and research is such an important aspect. It is imperative to understand the users you're designing for, before undertaking any form of product design," quips Ayushi.    
And the best way to understand users, shares Ayushi, is to get rid of all preconceived notions. "Even when you are speaking to a child, you have to understand their perspective and needs and not judge from a position of bias. This has been my biggest learning as a designer and researcher. It has helped me get better at the job and understand the nuances of a field that has drastically changed over the years, becoming one of the most in-demand roles," she adds. 
Also Read: 'Don't Be Afraid Of Failure, It's A Chance To Learn': How Poornima M Navigated Her Career in Tech
Over the last few years, there has been an upward tick in the demand for talented UX/UI designers and researchers across the country. Especially, with the benefits of design thinking coming to the fore, the trend is not likely to take a dip. At BYJU'S, where we are building a world-class suite of learning products, the UX/UI team indeed plays a big part in the process, helping us think out-of-the-box and also power our innovations with ingenuity and creativity.
Like what you read? Head to Life at BYJU'S to learn more about our work, people, and the stories that make us unique. To explore job opportunities, check out Careers at BYJU'S.