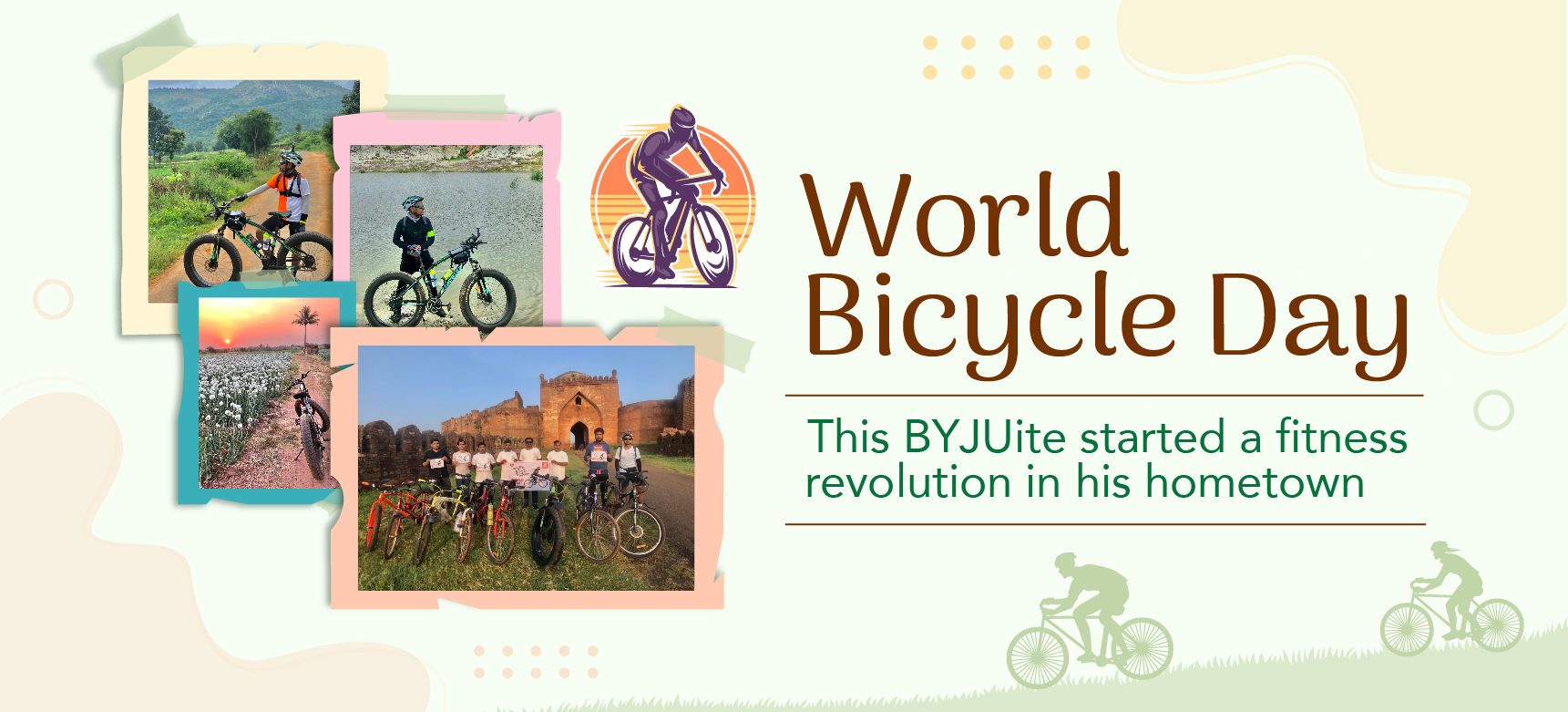 Undoubtedly a great (and easy) way to stay fit, cycling is a sport most of us learn in our childhood. For Sainath L, though, the bicycle has been a vehicle to rediscover his lifestyle. It was early 2020 when Sainath developed a fondness for cycling in a bid to get back in shape and stay healthy. And as he tells us, there has been no looking back since then! 
"I moved to Bangalore over a year ago to start my job at BYJU'S; when I made this move, I got my all-terrain bicycle with me. This humble two-wheeler has since been a great means to learn more about the city, especially as it wakes up every day," shares Sainath, an Issue Resolution Expert at BYJU'S. "Now, I cycle 20 to 25 km in and around Bangalore every day. I wake up at 5.30 am and cycle for two hours before heading to the office."
This World Bicycle Day, hop on, as we take you on the cycling adventures of this Bidar native as he navigates work and life in Bangalore.
Also Read: 'Don't Be Afraid Of Failure, It's A Chance To Learn': How Poornima M Navigated Her Career in Tech
Starting a fitness revolution
Waking up early and going for a bicycle ride is something Sainath began doing in his hometown, especially during the lockdown when free movement was restricted to the early mornings. And during most of these rides, he was accompanied by his friends and other fitness enthusiasts. 
"Shortly after I (re)started cycling, my friends began accompanying me during the morning rides. Eventually, there were 26 people cycling together every day and that's when I decided to officially start a cycling group in Bidar, called Deccan Pedalers," shares Sainath. 
"A lot of the Deccan Pedalers are also senior citizens," he adds, "whose motivation for cycling is simply to remain fit. I remember one of them joined our rides due to diabetes. Now that his blood sugar levels are under control for the first time in his life, it gives me great satisfaction to have helped him in his journey to fitness." 
Inspiring others and igniting a fitness revolution, however, didn't stop at Bidar. In Bangalore too, Sainath has continued his endeavour to keep those around him fit and healthy. Two of his colleagues at BYJU'S have even begun cycling with him. "I have also started vlogging my adventures with the bicycle and these are available on YouTube," he shares.
Also Read: BYJUites Drop Some Truths And Debunk Myths Around The World Of UX Research
In his vlogs, the cycling enthusiast tries to showcase his adventurous side. "One of my vlogs is about cycling from Bangalore to the Kolar Gold Fields, which is a 200-kilometre journey that I completed in 11 hours. This experience was life-changing," quips Sainath. 
When passion turns into purpose
Wondering what motivates this BYJUite and fuels his passion for cycling and fitness? The answer is simple — it all boils down to striking a balance.
"It's possible to do everything if you lead a disciplined life and wake up and go to sleep early. I make it a point to sleep by 11 pm every day," says Sainath, "In fact, after cycling for two hours, I still have another hour and a half to cook my meals, speak to my parents and take some rest before leaving for work." 
And he makes it a point to cycle to work as well — a place where he channels his people skills for ensuring seamless customer service.
Also Read: Teacher By Chance, How Avinash Dhanoa Discovered her Passion for Education
But it's not just work and cycling that Sainath enjoys. He's keen about photography too and has an Instagram page dedicated to shots of birds. "I love capturing birds through my lens and would spend a lot of time in my hometown watching and taking photos of birds," says Sainath. Now that's what we call a multifaceted person!
Like this story? Head to Life at BYJU'S to learn more about our work, people, and the stories that make us unique. To explore job opportunities, check out Careers at BYJU'S.