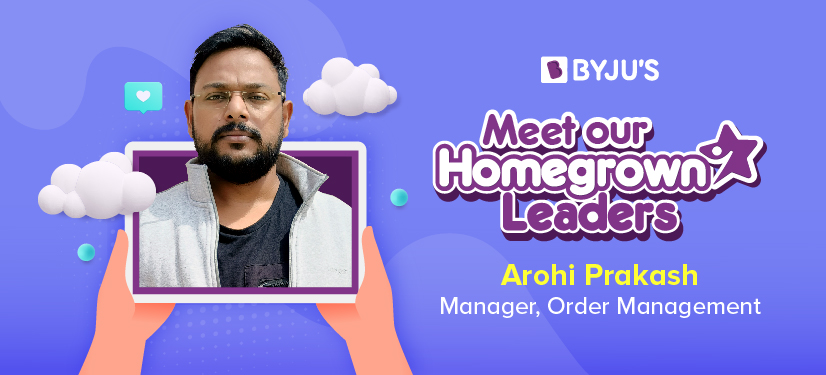 Finding one's own niche, taking initiative, and planning and executing strategies effectively, should be an integral part of an individual's learning curve. And for Arohi Prakash, who joined BYJU'S in 2014, learning, improving, and growing, has been the cornerstone of his professional journey. 
In our new series, Homegrown Leaders, Arohi shares insights into his BYJU'S journey and what has led him to become the Manager of Order Management in the years since. Through Homegrown Leaders, we tell inspiring stories of BYJUites who've been with the organisation for a while and have grown along with it. 
"I started in Operations and eventually moved to Supply Chain. From ensuring that students have the best experience with BYJU'S to supporting the sales team, I have worked with multiple teams over the years," shares Arohi. "This has enabled me to form a great understanding of the BYJU'S work culture. It has allowed me to take initiative and grow in my career," he adds. 
Also Read: How BYJUites are empowering girl children through education and volunteerism | International Day of The Girl Child
Eventually, his skills led him to large-scale data handling and analysis of various internal processes — a role which he oversees along with his team today. 
Making a manager 
Arohi's journey with BYJU'S began soon after he pursued his MBA. "I came here as a fresher and whatever I know today as a professional is thanks to my time at BYJU'S," Arohi says. "Learning from my seniors, growing under their guidance, has helped me upskill throughout my career at BYJU'S," he adds. 
Indeed, it was continuous mentorship that has enabled Arohi to navigate through various roles at BYJU'S. "My managers have always encouraged me to complete my tasks per my capabilities. They have never micromanaged and that is something I try to ensure with my own team as well," explains Arohi. 
Besides an absence of micromanagement, his leadership style also includes helping people reach their potential. "My goal is to create new managers and leaders within the organisation — to impart what I have learned to my teammates so that they can have a successful professional journey," quips the BYJUite. 
Also Read: All about language acquisition and curriculum design: Shibangi Nag traces her BYJU'S journey
Learning and growth over the years 
While in his initial days Arohi worked individually, he eventually embraced teamwork and learned how to become a leader. "I still fondly remember something Byju Raveendran had told us: You do your best and we'll take care of the rest. It's something that I still abide by," he says. 
This quote has helped Arohi navigate several challenges over the years. "As the organisation has grown, so has the scope of my work. It's important to adapt to the changing circumstances. I have worked with my seniors and team members to implement systems that have made our processes streamlined and ensured that students have the best learning experience," he says. 
"When I joined BYJU'S over seven years ago, I was among the first five hundred employees," quips Arohi. With offices, offline tuition centers, and multiple companies across the country and the world, thousands of people are a part of the organisation. BYJU'S has impacted millions of students over the years, something that he is very proud of. 
Also Read: How BYJUite Anjali Gupta's career is a journey of diverse opportunities and continuous learning
"Growth is an intrinsic part of BYJU'S and if anyone is ready to give their best, there's no stopping them," concludes Arohi. 
Like what you read? Head to Life at BYJU'S to learn more about our work, people, and the stories that make us unique. To explore job opportunities, check out Careers at BYJU'S.