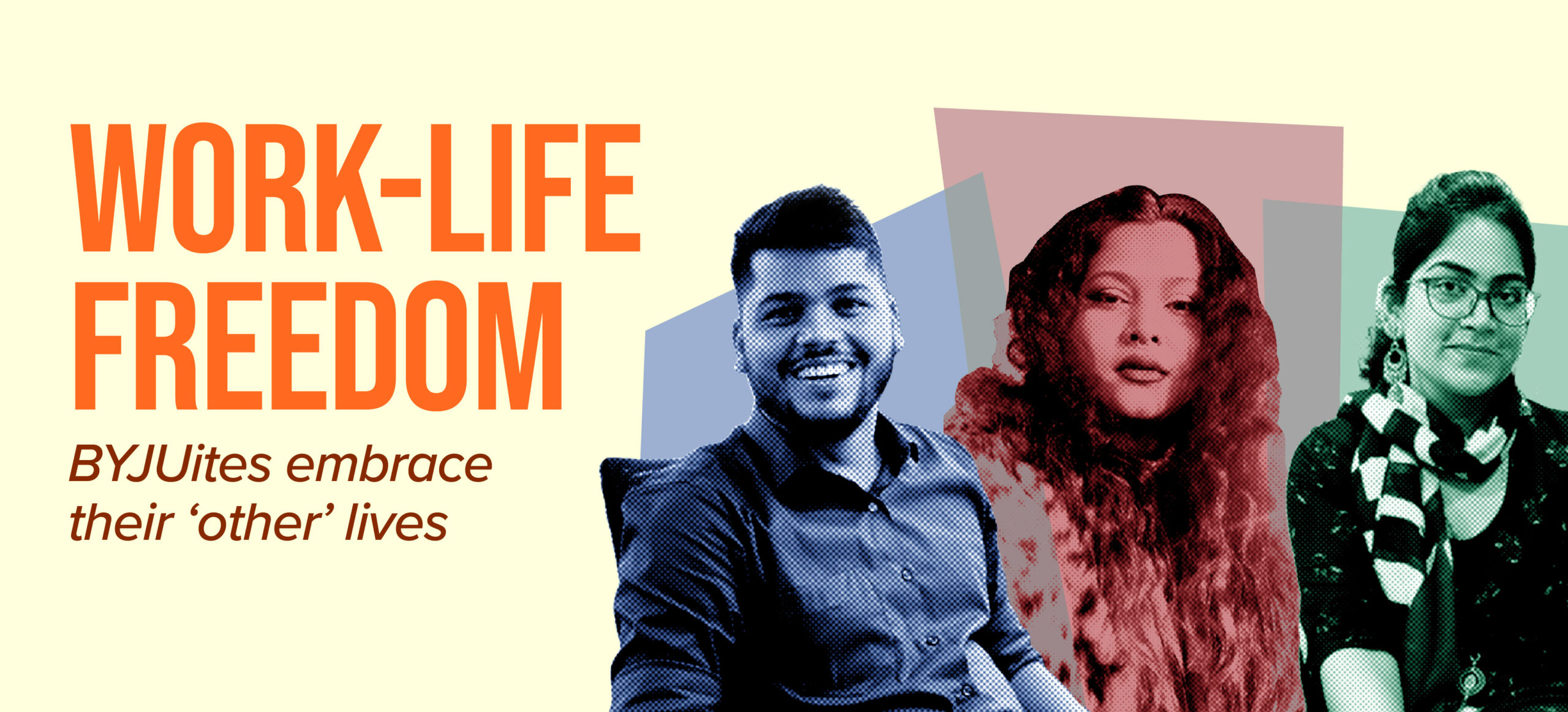 We've been told since childhood that passionate people make the impossible possible. But can we truly juggle the pursuit of passion with our full-time jobs? Strong-willed BYJUites show us, and how! 
From photography to public speaking and tattooing, three incredibly talented BYJUites are here to spill the beans on treading masterfully between their passion and profession. In doing so, they deliver a life lesson that every BYJUite lives by: keep learning.  
Also Read: 'Our innovations & big ideas come from passionate techies': Vijay Vyawhare on why experimentation is key to solving challenges
For the love of food blogging
"My mother ran a catering business for over 25 years, so food has been an integral part of my childhood. When I had some time during my maternity leave, I decided to create an Instagram page and document this love for food through photos," says Sakina Taher Godhrawala. This was almost five years ago. Today, the BYJUite has over 13,000 followers, who are fans of her stunningly appetising and drool-worthy photographs. 
A self-trained photographer, Sakina honed her craft gradually along with her growing Instagram following. "I learned new techniques like action photography and fell in love with the process. I even made videos to document how I learned food photography that hopefully will help others pick up the skills as well," adds Sakina. The Student Success Specialist also creates new recipes and reviews restaurants across Mumbai, where she is based. 
When she joined BYJU'S in 2021, Sakina had to balance her passion for food photography along with motherhood and a new job. When asked how she manages, she says, "I utilise my week-off for food blogging. My colleagues are also super supportive and encouraging. I always make it a point to share my recipes and photographs with them." 
Nurturing her food photography skills and creating content for her Instagram page has taught this BYJUite several important lessons when it comes to being a professional. "For one, I'm more patient and know that consistency is non-negotiable when it comes to succeeding. My following didn't develop overnight and it took a lot of learning and relearning, skills which I apply to my work at BYJU'S," says Sakina. 
Also Read: 'Creating Innovative Culture Is Key To Success': Swadhin Jaiswal on How Entrepreneurship Can Foster Personal Growth
Public speaking is his jam
When Avinash Kumar rejoined BYJU'S in March 2021, he knew that his experience as a radio jockey and his penchant for hosting events was going to come in handy at work. In fact, the idea was to let this passion fuel his role as a Central Training Manager, responsible for training and inducting employees in the Sales team. 
"When I had initially joined BYJU'S in 2018, I used to take out time during my week-offs to emcee events and interact with college students as a motivational speaker," he tells us. "This experience, of interacting with a live audience and establishing a connect with them, really helped me hone my public speaking persona over time."
It also prepared him, in more ways than one, for his second innings with the Learning and Development team at BYJU'S. 
"My role right now involves leading a team of trainers, who are responsible for mentoring and training new joinees in the Sales team of our Exam Prep segment. Over the last several months, I have trained thousands of employees and it was easier to do so because of my public speaking experience," adds the Central Training Manager. 
Life of a tattoo artist 
Boby Silina Ekka's tryst with her passion stems from a deeply personal experience. Hailing from a small town in Odisha, Boby grew up admiring the tattoos on her grandmother and other relatives. But she was never allowed to get inked herself. 
"I was very close to my grandmother. When she passed away in 2018, I wanted to honour her memory by tattooing myself. That's how I picked up this fascinating art form," says the 2D artist. Coincidentally, 2018 also happened to be the year she joined BYJU'S Media team. 
An artist through and through, Boby had pursued a degree in animation and film design from National Institute of Design, Ahmedabad. "Working at BYJU'S combines my love for animation, design, and education. I get to create visually rich content and lead a team of artists to deliver some truly unique and best-in-class experiences," shares the BYJUite. 
When asked about how she manages to juggle her dual role, Boby says, "I think it's all about discipline and a strong desire to make things happen. The culture and vibe at BYJU'S is conducive for personal progress. Our peers and seniors are appreciative of not only the work we do at BYJU'S, but also our artistic journeys beyond." 
Also Read: From Accountancy to Senior Design Manager: How Kaushal Mishra Paved His Path to BYJU'S
And how does she stay inspired? "Tattooing is not just a form of expression but also a journey of self-awareness and acceptance of one's body. The time I spend with my clients, understanding where they're coming from, and the fact that my art will stay with them permanently, is a great motivator," says the BYJUite. 
We believe it is passion — at the workplace and beyond — that drives individuals to bring their best to what they do. Nurturing this passion for innovation has enabled BYJU'S to become one of the leaders in the edtech sector, even as we continue our mission to encourage everyone to keep learning. 
Like what you read? Head to Life at BYJU'S to learn more about our work, people, and the stories that make us unique. To explore job opportunities, check out Careers at BYJU'S.