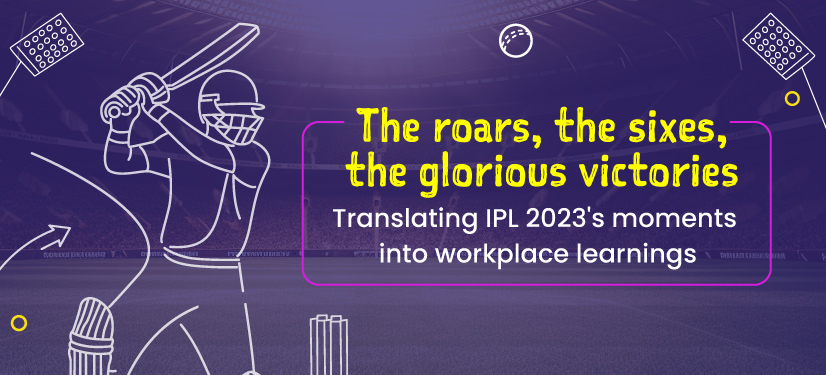 Indian Premier League 2023. A rollercoaster of emotions that captivated the minds of millions across the globe. From exhilarating excitement to ecstatic joy, heart-wrenching disappointment to fiery anger, IPL transcended entertainment on so many levels. 
Beyond the roaring cricket stadiums and nail-biting finishes,  IPL 2023 has left an indelible mark, in the realm of personal and professional growth. It has provided invaluable insights and learnings that extend far beyond the boundaries of the game.
Today, BYJUites explore learnings from IPL that have a positive impact on their work, highlighting key takeaways in values, strategies, and mindset. From boundary-smashing strategies to match-winning mindsets, let's look at how we can propel our work and personal life to new heights. 
Time to grab our virtual bats, step onto the pitch, and unlock the secret to success together!
Also Read: Shaping a powerful narrative: In conversation with Director PR and Communications Kavitha Shenoy
Komal Raturi
Account Manager – Brand and Marketing 
1. Importance of teamwork, collaboration, resilience, and goal-setting
As a die-hard IPL fan, I derive immense inspiration from all the players, especially my favourite, M.S. Dhoni. He epitomises the essence of teamwork, collaboration, resilience, and goal-setting. He serves as a powerful symbol, showcasing the potential that arises from working together towards a shared objective. 
Furthermore, the passion and energy generated by IPL moments can be harnessed to create a vibrant environment, boosting employee morale and productivity. Learning from the Chennai Super Kings team's practice of setting specific goals for each match, the significance of goal-setting and breaking down larger objectives into smaller, achievable targets is understood, contributing to overall success and project deliverables.
2. Embracing adaptability and resilience:
IPL 2023 showcased adaptability and resilience. Players overcame challenges and changes, teaching us to embrace adaptability in our work and be resilient in the face of obstacles. It's crucial to adjust, learn from setbacks, and bounce back with determination for personal and professional growth.
Rohit Sharma's comeback was a testament to resilience as the Mumbai Indians vs Delhi Capitals match was a treat for fans. His brilliant knock of 65 off 45 ended his two-year streak without a 50+ score as an opener, earning him the Player of the Match title for the 19th time. The string of nail-biting finishes in matches like MI vs DC and CSK vs RR has made this season truly fan-tastic with unexpected and exciting conclusions in every game.
Bharath T M 
Business Development Manager – Sales
3. Enhance skills, promote positive Culture, continuous learning
In this year's IPL, the game-changing concept of Impact Players was introduced. Teams had the option to replace a player with an Impact Player during any inning. These players are chosen for their track record of impactful performances in batting, bowling, or fielding. Similarly, in the workplace, we should aim to have the power to influence project outcomes and bring unique talents to our teams. Just like IPL's Impact Players, we can make a significant impact by leveraging our skills and experiences for team success.
Apart from that, Virat Kohli's century showcased his never-give-up attitude, mirroring the importance of perseverance in the workplace. A positive work culture fosters collaboration, innovation, and productivity. Like in IPL, handling challenges and staying focused is crucial for success, inspiring individuals to make sound decisions and deliver results. IPL 2023 exemplified the pursuit of excellence through continuous learning.
4. Breaking records and setting new milestones:
IPL 2023 witnessed record-breaking performances that amazed cricket enthusiasts. From blistering centuries to remarkable bowling spells, players pushed boundaries and etched their names in IPL history. One such exceptional display came from Rinku Singh, who hit five consecutive sixes in a row against the Gujarat Titans. 
The 25-year-old's stunning performance secured a thrilling victory for Kolkata Knight Riders and set a new IPL record for the most sixes in a single over. Singh's achievement joined the ranks of IPL legends such as Chris Gayle, Ravindra Jadeja, and Marcus Stoinis, and marked an iconic moment in IPL 2023. 
Just like in the IPL, age should never be a barrier when it comes to pursuing your goals at work. If you're a fresher, never hesitate to dream big and set your sights high.
5. Balancing individual contributions with team goals:
In IPL, individual brilliance is celebrated alongside the importance of balancing individual contributions with team goals. Players showcase their skills while prioritising the team's objectives. Similarly, in the workplace, understanding the balance between personal success and collective achievements is vital. Striving for personal growth while aligning efforts with the organisation's vision creates a harmonious and successful work environment.
On the same day as Rinku's outstanding performance, Shikhar Dhawan showcased his brilliance in a remarkable inning. Despite a top-order collapse, the Punjab Kings (PBKS) captain carried the team on his shoulders throughout the 20 overs. With an unbeaten 99 runs off 66 balls, Dhawan was hailed as the "lone warrior" of the match. Notably, he became the second player in IPL history to bat with all his teammates in a single inning. Despite PBKS losing, Dhawan's incredible knock earned him the Player of the Match, a first for a player from the losing team in IPL 2023.
Also Read: World Meditation Day | Unlock inner peace with these 5 meditation apps
As we bid adieu to IPL 2023, BYJUites carry the lessons learnt on this exhilarating cricketing adventure into the workplace. Let's embrace adaptability like a batsman adjusting to different bowling styles, never stop learning like a bowler refining their skills, and work as a team like fielders backing each other up. And when faced with a challenge, stay cool like a captain strategising the final overs. 
By balancing individual brilliance with team goals, we'll hit sixes in our careers and score centuries of success. Let's play on with the spirit of IPL 2023, where learning meets excitement, and together, we'll be champions at BYJU'S. 
Calling all IPL enthusiasts! If you have learnings you would like to share, drop a comment below. 
Like what you read? Head to Life at BYJU'S to learn more about our work, people, and the stories that make us unique. To explore job opportunities, check out Careers at BYJU'S.