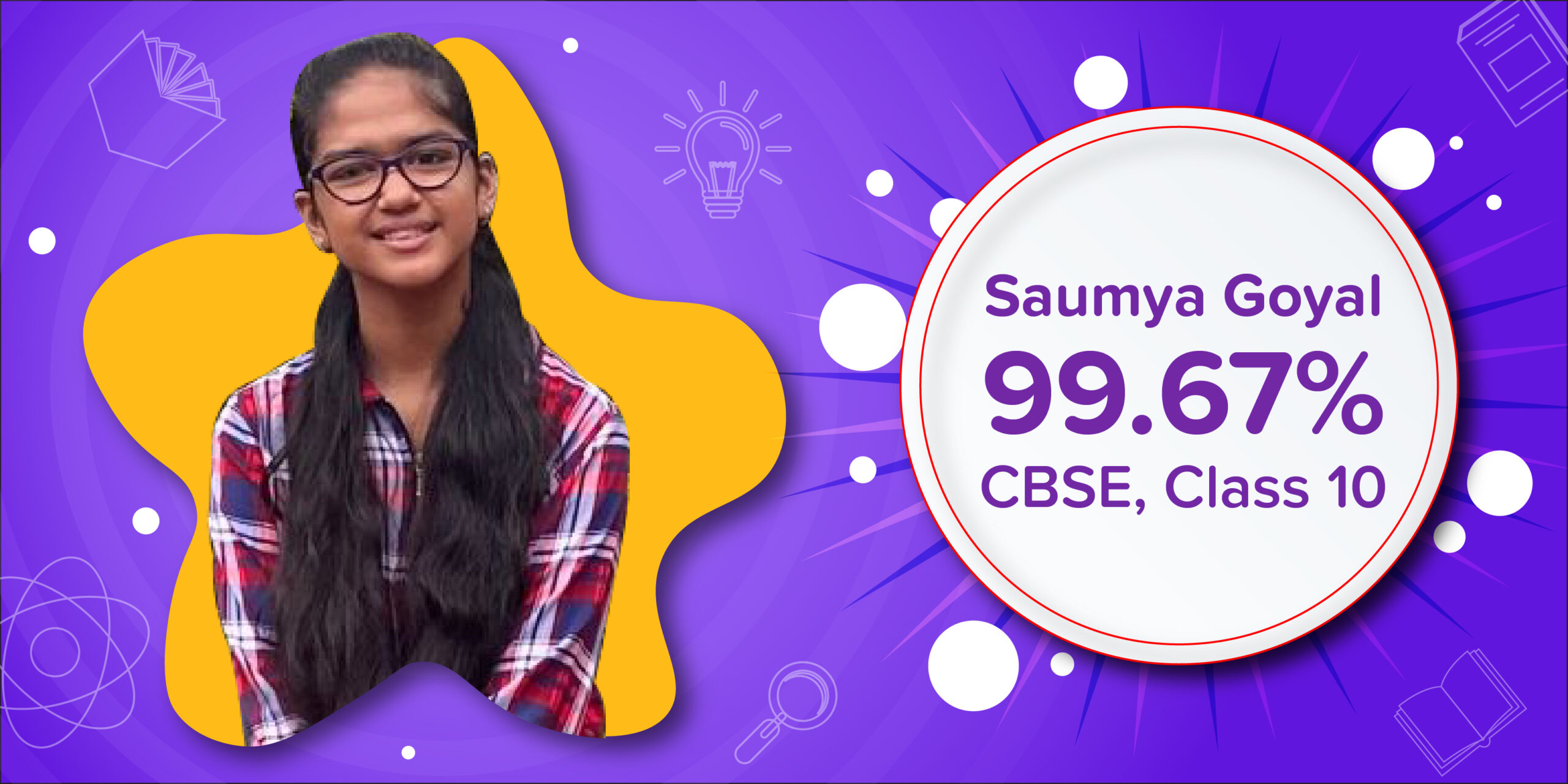 When stressed during studies, such as when she is unable to solve a Math problem, Saumya Goyal loves to play her guitar. This unique yet effective approach to problem-solving helped her achieve a memorable feat in her Class 10 board exams this year. The 16-year-old from Haryana scored a whopping 99.67 percent in her CBSE board exams. She tells us, "The moment I came to know my score, I was extremely overjoyed. I did expect a good score like 95 and above but 99 was something beyond my imagination. It felt really good and satisfied with the fact that whatever I have done over the entire year has finally paid off."
Physical exams are better!
This year was not like any other, owing to the COVID-19 pandemic restrictions, which led to students being marked on their pre-boards and internal assessment. Speaking about the entirely new experience, the 16-year-old says, "We had our final pre-boards offline. We were marked on that and internal assessment. This would have been my first experience with board exams. I was really excited and wanted to physically write the paper at a designated centre but that didn't happen because of the pandemic. It felt weird actually at certain points as I think my achievements wouldn't be recognised in the same way as in other years just because we didn't take the exams physically. That was a major downer. For the last two months, I was preparing sincerely and then we got to know that the boards got cancelled, I was disheartened."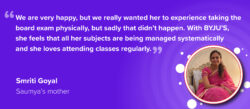 So, what was Saumya's everyday routine like before the exams, which helped her achieve top marks? We asked her. "The last two months were all about solving sample papers. Mainly focused on Mathematics as questions could come from anywhere and I was also majorly practising Trigonometry. Before that, I studied from books in the school curriculum and was also preparing for the pre-boards. I am not a morning person, so I mainly studied at night at a stretch. In the morning I completed my homework and project work. At night, I started after completing my dinner early and then until 1 am I could study without any distractions," adds the topper.
The BYJU'S touch
Saumya credits BYJU'S for clearing her doubts in Chemistry right before her board examinations. "My plan was to take up the BYJU'S classes for 11-12, but my father encouraged me to take it before the boards and it indeed helped. I specifically took help for balancing equations in Chemistry from BYJU'S for Class 10. Some of them were extremely difficult and complicated and BYJU'S made it simpler with audiovisual explanations. Now, I am completely dependent on them. We can get our doubts cleared anytime and it's becoming really easy for me to grasp concepts," she shares. Saumya wants to clear the NEET exam after completing school and she adds that BYJU'S is helping her prepare. During her free time, Saumya learns Kathak and loves playing her guitar whenever she wants a break from her studies.
Saumya has a clear message for future board students. "Board exams are not as tough or as pressurising as people around you make it sound. It is just an exam, which is like any other regular test. We should be consistent, something that I realised with time. In Class 10, it's extremely important that you begin studying from the first day itself. You should be aware of what is being taught and read before a topic is being taught in class," she advises.
Team Storyweavers wishes Saumya best of luck in all her future endeavours.
Enjoyed reading this? Also check out: Here's Why Shanjan Thamma Is A Powerhouse Of Talent
Here's how Kriti's 'Be Consistent' Motto helped her score 98.8%
BYJU'S Student Abhimanyu On Acing The RK Vidyapith Exam And The Future Of Online Classes