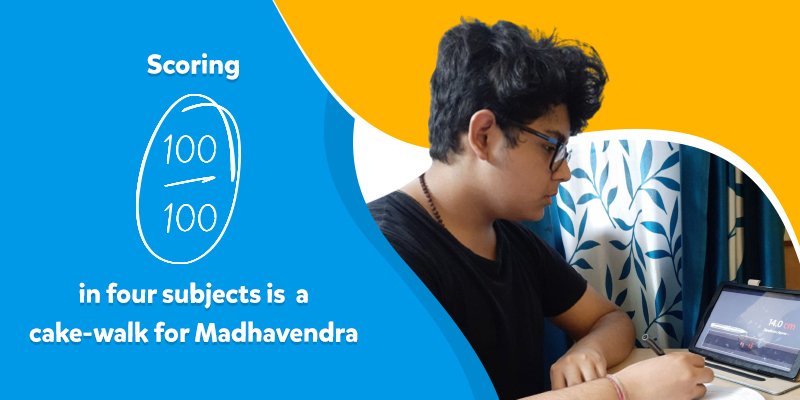 Not everyone can achieve a whopping 100 percent in their English exam, unless you are Madhavendra Gautam from Ghaziabad, who has made the impossible possible! The 16-year-old, who scored a total of 99.80 per cent overall in his CBSE board exams this year, managed to obtain 100 marks in four subjects — English, Mathematics, Hindi and Information Technology (optional). This despite students having a tumultuous time due to the COVID-19 pandemic. The tenth-grader did not fall behind much in other subjects too, as he scored 98 in both Sanskrit and Science, and 99 in Social Science.
Team Storyweavers had a nice and long chat with the bright student to know more about his exam prep journey and the tips he would like to share with other students for scoring top marks in boards.
He's hit a century
"I used to study for two hours a day, with no distractions. This was my first board exam and I was determined to do well. I was consistent while preparing and did not take any shortcuts while reading and retaining the lessons," says Madhavendra, a student from the Indirapuram Public School in Ghaziabad.
Managing a 100 in subjects like English and Hindi is quite an uphill task. Madhavendra agrees, and adds, "I was quite surprised when I saw that I scored a 100 in English and Hindi. Typically students don't get full marks in a language paper or vernacular. But I was extremely overjoyed and the satisfaction was clearly evident on my parents' faces. That made me a tad bit proud of myself. We were all together in the same room when I checked my scores on the computer."
Madhavendra is currently focused on preparing for JEE and for that he's attending BYJU'S classes. Speaking on how BYJU'S helped him with his board prep, he shares, "Last year around October, I started taking the BYJU'S classes. Their teachers are really great, passionate about their work and I really love how they teach and how well they interact with us. The syllabus is thoroughly covered and not a single portion of the syllabus is given less importance. It really helps us to take the exams confidently as all the topics are covered and we don't feel anxious or miss out on anything. Especially the innovative ways they use to teach young students is what got me engaged. With the help of animation and videos, BYJU'S has found a great way to help students like us fall in love with learning. Before the Class 10 boards, my doubts were cleared immediately, which helped immensely to keep my studies on track."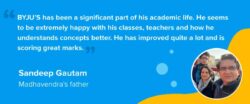 All the help you can get, courtesy BYJU'S
When Madhavendra is not busy attending his JEE classes on the BYJU'S app, you might find him playing a flute or his beloved keyboard. "I can play multiple musical instruments — two types of flutes and a keyboard. I don't like social media much, I do watch television sometimes. I don't find social media productive. We could instead spend some time on Google and search for things we want to know more about," he adds.
Speaking about how he managed his boards prep and music, the 16-year-old confidently says, "I just had to be consistent with my routine — attend school classes, then study by myself for two hours a day and get my doubts cleared, attempt practice tests on the BYJU'S app. And the rest of the day I could spend playing music or watching TV."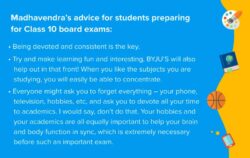 Team Storyweavers wishes Madhavendra all the best for his future endeavours.
Liked reading his story?
Check these out too: Venkat Sheds Light on His Path to Scoring 98.4% in Class 10
Here's how Kriti's 'Be Consistent' Motto helped her score 98.8%
How This Sixth-Grader From BYJU'S Became An Ace Fluid Acrylic Artist