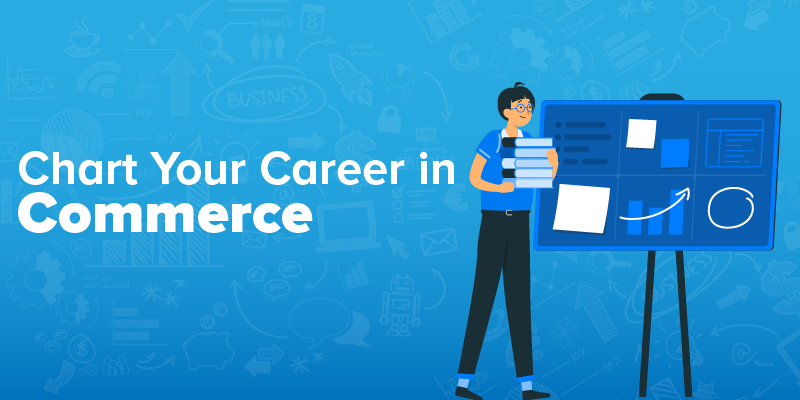 One of the most important decisions in a student's life is to decide which career they want to pursue upon graduating. While the opportunities are endless for any field, there is a diverse range of lucrative career options after 12th commerce. Not everyone is aware of the various avenues in commerce, and therefore, many students end up following the decision of their peers. Hence, it is advisable to spend some time finding the perfect career fit.
An important step before making a decision for your career is to first chart your vision. Here's how you can get started:
List down your interests based on the kind of future you envision

Understand the subjects you're good at, and the ones you don't want to study further

Narrow down on the courses that match your interests and abilities

Learn how to upskill and gain practical experience besides completing your course
Now that you have your vision in mind, let us explore the top careers in commerce that might interest you.
Best Career Options in Commerce
1. Chartered Accountant (CA)
Considered one of the most challenging courses, Chartered Accountancy is a highly sought-after option for commerce students. Both in the public and private sectors, CAs occupy top positions in almost every organisation. Chartered Accountants have expertise in the fields of accounting, taxation, auditing, business & corporate laws, corporate ethics, etc. A CA oversees the financial responsibilities of organisations and individuals such as filing returns, recording financial statements, auditing companies, and ensuring legal and ethical compliance, among others.
How to become a Chartered Accountant (CA)?

To qualify as a Chartered Accountant, students must register with the Institute of Chartered Accountants of India (ICAI) and complete three levels – Common Proficiency Test (CPT), IPCC (Integrated Professional Competency Course), and FC (Final Course). The course takes up to 4 years to complete, including an articleship under a CA for 3 years.
2. Investment Banker
Investment Banking is a very interesting and in-demand profession worldwide. Investment Bankers are responsible for making informed decisions when it comes to growing the financial assets of clients or organisations. Their main line of work includes raising capital from various sources for the general operations of the company and also handling mergers and acquisitions.
How to become an Investment Banker?
To become an Investment Banker, the following courses are preferred for entry-level positions — Bachelor of Commerce (B.Com) Hons, Bachelor of Arts (BA) in Finance/Economics, or Bachelor of Business Administration (BBA) in Finance. Further, one can get dedicated training as a Chartered Financial Analyst (CFA) to advance in the field. It is also helpful for students to pursue an MBA in Finance to enter into leadership positions.
3. Cost and Management Accountant (CMA)
CMA is a professional certification that is internationally accredited for commerce and accounting professionals. It is a very lucrative course for commerce students and equips them to become business leaders of tomorrow by strengthening the four pillars of knowledge — Strategy, Management, Regulatory Framework and Financial reporting. As a CMA, one must provide professional services in investment planning, profit management, and overall managerial decision-making process in the businesses including the service and manufacturing sector.
How to become a Cost and Management Accountant (CMA)?
To become a CMA, the student must enrol with the Institute of Cost Accountants of India (ICAI). The curriculum includes three levels — foundation, intermediate, and final — with 20 subjects. Students can also enter this course upon completing the foundation courses for CA or CS.
4. Company Secretary (CS)
Students who have an inclination towards theoretical law would find the Company Secretary course quite appealing. CS professionals are responsible for being thorough about the legal prospects and agreements within companies. They can eventually grow into senior positions in corporates and large firms.
How to become a Company Secretary (CS)?
To become a CS, a candidate has to clear three levels after 10+2 exams — Foundation program, Executive Program, and Professional Program. In the final level, candidates can choose their specialisation out of Banking Laws and Practice, Capital, Commodity and Money market, Insurance Law and Practice, Intellectual Property Rights Law and Practice, or International Business Law and Practice.
5. Lawyer/Advocate
Law is considered a prestigious profession, worldwide with a vast scope for career opportunities. Students can study subjects such as Family Law, Constitutional Law, Property Law, Company Law, Administrative Law, etc. as per their interest in the specialisation. Lawyers are employed across major corporations, government bodies, and law firms, or they begin their own practices.
How to become a Lawyer?
Students who wish to pursue law would first need to clear the CLAT (Common Law Admission Test) and get admission into universities offering the LLB (Bachelor of Law) course, governed by the Bar Council of India. A well-known law specialisation is Integrated Corporate Law, which comprises the guidelines, practices, and rules that govern the formation and operation of corporate firms. This is a 5-year course that is integrated with a Bachelor of Commerce or Arts.
6. Actuary
Actuarial Science is a challenging and lucrative profession where one analyses financial risks in the insurance and finance fields, using statistics and mathematics. Actuaries help define the financial impact of uncertain future events, which is largely helpful for insurance companies and pensions to determine the funds needed to pay claims. For example, studying the mortality rates of people of a certain age will help insurance companies set a timeframe for paying out a life insurance policy. Actuaries also work in various industries such as banking and healthcare to analyse financial liabilities and minimise risk costs.
How to become an Actuary?
To become an Actuary, students must have opted for Maths or Statistics in 10+2 exams. Students must complete graduation in Maths, Statistics with Actuarial Science or B.Com. They must also appear for the Actuarial Common Entrance Test (ACET) and pass all the 15 stages, including Core Technical Papers, Core Application Paper, Specialist Technical Papers, and Specialist Application Papers. Upon successful completion, the candidate will become a member of the Institute of Actuaries of India.
7. Certified Financial Planner (CFP)
CFP is one of the top vocations in commerce and is well-suited for students interested in financial management. A Financial Planner is responsible for unlocking a financially secure future in the best interests of the client. One can become a Financial Planner or Wealth Advisor by specialising in any of these fields — Investment Planning, Retirement and Tax Planning, Risk and Estate Planning, Estate Planning. 
How to become a Certified Financial Planner (CFP)?
The CFP is a globally recognized certification provided by the Financial Planning Standards Board (FPSB). There are two pathways to becoming a CFP: Challenge and Regular. A Regular candidate must have passed their 10+2 exams, while a Challenge candidate must be a CA / Intermediate level, CS, LLB, or PhD, among others. Regular candidates must clear five exams covering all six modules of the certification programme. The Challenge candidates are only required to clear the fifth exam, Advanced Financial Planning, to receive the CFP certification.
8. Bank Probationary Officer (PO)
In the banking sector, the post of Probationary Officer is widely sought after and is a great career option for commerce students. A Bank PO handles multiple roles and responsibilities — managing customer complaints, supervising employees under the Clerical post, and managing cash flows, loans, mortgages, and finances. This is considered a secure job and one can grow within the sector to attain managerial positions.
How to become a Bank Probationary Officer (PO)?
Every year, all government, as well as private banks, announce vacancies in the PO job role, including State Bank of India, Allahabad Bank, Bank of Baroda, Punjab National Bank, ICICI Bank, HDFC Bank, among others. The SBI PO, IBPS PO, and ICICI Bank PO are some of the main exams to qualify for a post in any of these banks. Students can also opt for RBI Assistant Exam and RBI Grade B Exam to get employed in the Reserve Bank of India.
9. Digital Marketer
Digital Marketing is a booming profession across the world with the increased need for an online presence for most companies in this day and age. Digital Marketing involves the promotion of products & services of brands for revenue generation through digital mediums such as Search Engine Optimisation (SEO), Content Marketing, and Display Advertising, among others. An analytical, as well as a creative bent of mind, is preferred to become a Digital Marketer.
How to become a Digital Marketer?
To qualify as a Digital Marketer, students must first have completed their 12th standard, after which they can pursue Bachelors or Masters courses in Digital Marketing. Or, upon completion of Bachelors courses such as B.com or BBA, one can also opt for online certifications. Some of the top Digital Marketing courses in India include BBA in Digital Marketing, MBA in Digital Marketing, or a certification in Digital Marketing through various reputed platforms.
10. Journalist
If one has a passion for storytelling and is interested in travelling to cover stories of people and places, then Journalism is a great career option after 12th commerce. With the influx of media into our lives through paper, television, and the web, careers in mass media are picking up prominence more than ever. Upon qualifying, journalists can work in news stations or publishing houses and rise up the ranks as public figures.
How to become a journalist?
Students interested in journalism can opt for Bachelors or Masters degree in Journalism and Mass Communication. With this qualification, one can also work in the fields of content creation and delivery, public relations, corporate communication, event management, film direction and production, and media and Indian polity.
Choosing the right career can be a daunting task. But, with a good amount of research and the right guidance from mentors, you can make an informed decision for your future.
Which among these top career options after 12th commerce interests you? Tell us in the comments below.
---
Also Read: