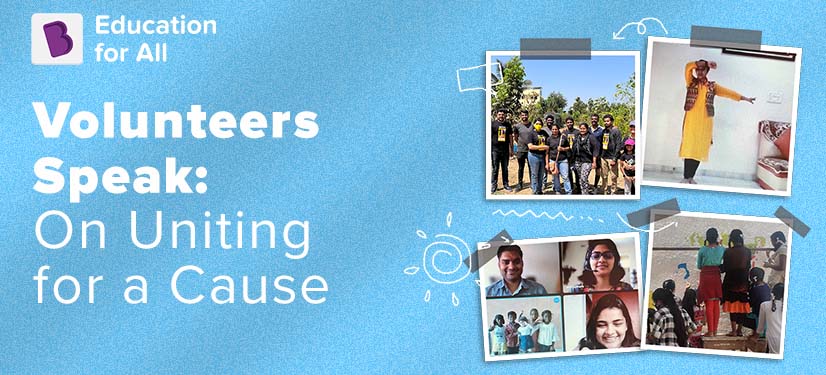 What if a small step that you take could make a giant difference in the life of a child?
Through the BYJU'S Volunteering Programme, a number of BYJUites have been coming together to help make an impact for children and create a difference in their lives. Through the various events that we have hosted so far, here's what BYJUites have to say about their experiences.
Manswi Garg, Senior Manager, Learning and Development, a long-time volunteer says, "Volunteering with BYJU'S has been great. In fact, the volunteering events are simple and don't take much of our time. In fact, the first time I volunteered was by donating a device and tried to make a difference by helping another child's education. Then I was a part of the #StrongHerTogether campaign where I taught the children how to make the best out of waste. I volunteered once again to paint a government school in splashes of colours."
"Volunteering has always been a pleasure for me and helps me learn and do things that I always wanted to do. At the same time, it is also making an impact on children's lives," she further adds.
Here's a glimpse of some of the volunteering events that we have had so far.
#StrongHerTogether
Through #StrongHerTogether, we partnered with Ladli Foundation and Vahdam Teas to build confidence and inspire young girls on National Girl Child Day. We conducted various programmes for the children, all conducted by BYJUites. The children, too, participated in these sessions and also used the platform to showcase their talents.
"Being a part of the #StrongHerTogether campaign felt really amazing. It felt like I was doing something for a greater cause even though my role was as tiny as providing extra skills to the girls from the NGO," says Meghna Howldar, Senior Student Success Specialist
She adds, "I believe knowledge grows when shared. And thus, I did the same. I shared my knowledge of mandala art with the girls of the NGO and the response received was really overwhelming. I would love to be part of it in the future, too."
Plantation Drive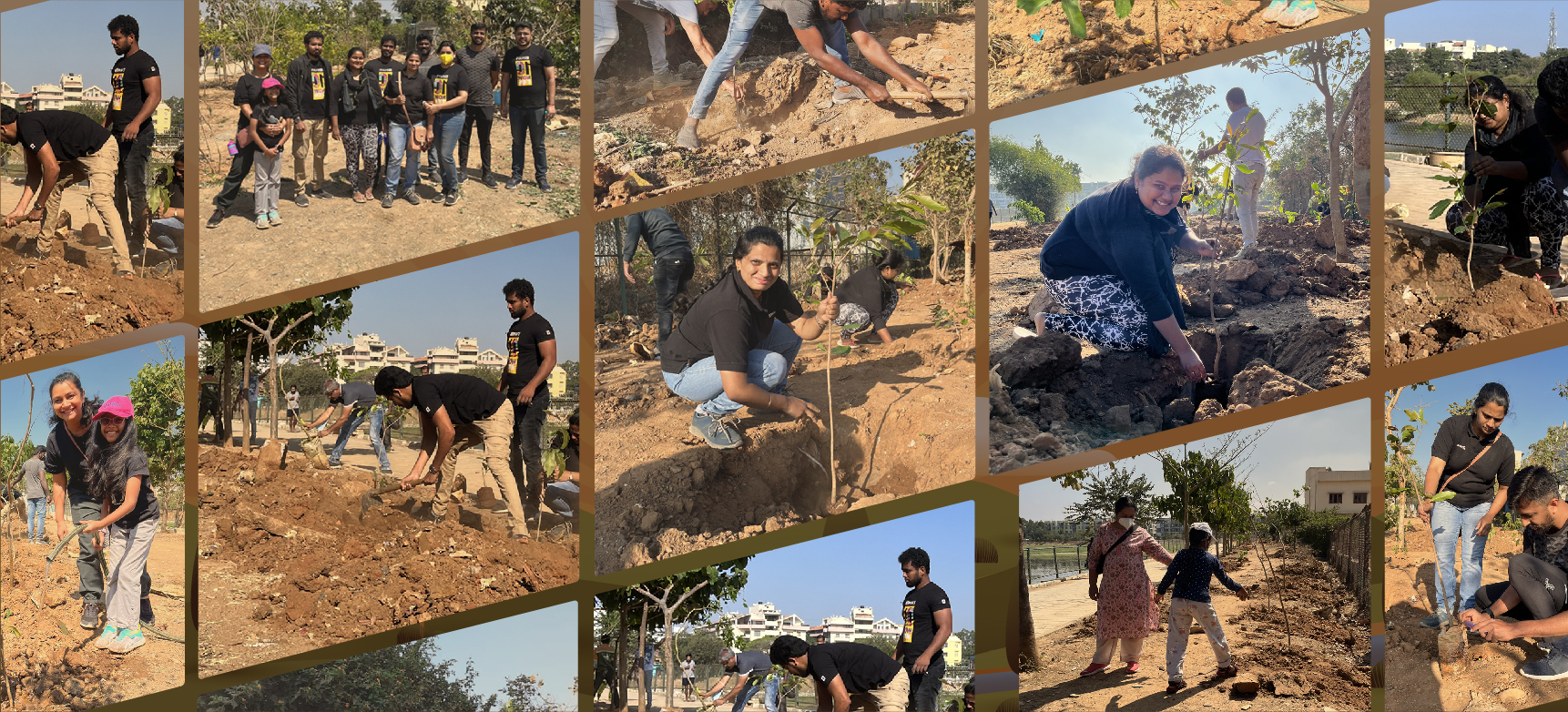 On World NGO Day, as a tribute to the efforts of our NGO partners, we conducted a plantation drive. Through the drive, BYJUites planted over 150+ saplings along the borders of the Vibhutipura Lake, Bangalore.
"Education in all different forms is key to breaking the cycle of poverty, and it helps people make wiser, healthier, and smarter decisions. Millions of children are not learning because of poverty, and from my life experience. I have seen many kids dropping out of school for so many reasons," says Michel Raj, Assistant Manager, Delivery & Production.
He adds, "I felt like these reasons shouldn't stop a child from getting an education, especially those who have a thirst for learning. So I am feeling really proud that I am in an organisation that tries to give education to all kids."
#

C

o

l

o

u

r

ForACause
 Through the #ColourForACause event, we helped paint a wall of the Ramagondanahalli Government School, Bengaluru. We did this with the help of the beneficiaries of Rotary Whitefield on the occasion of Holi.
 "Volunteering has always been a superpower one can indulge in selflessly. Through the #ColourForACause event, I got an opportunity to add to the kids' school experience by sketching on the walls of their school. Seeing students all geared up to come forward to cooperate with us to fill in colours was worth the experience. Kids were excited to be a part of sketching the world map, it was a fun event seeing them point out places they would want to colour. Making a small impact through a sketch, in their day-to-day learning at school was a great experience," says Marudwati J, Academic Success Lead, Tutoring.
 "When I heard about the BYJU'S Volunteering Programme, I was thrilled to be a part of it. During Holi, I truly enjoyed splashing colours over the walls of the school. Not only were we adding the colours to the school, but also to the lives of these children as was evident through their smiles," says Sahana Muniraju.
Storytime!
Every story that is told well has power great enough to leave an impression on our minds. And most often, we hear some of the best moral stories during our childhood. BYJUites got together for a storytelling session for the child beneficiaries of the IDEA foundation. They shared stories laden with values, life lessons, and inspiration with the hope of creating a small yet positive impact on these little minds.
"I think it is a great initiative, for the social causes as well as for the company employees. For us, these opportunities help us to use various skills which are not often used because of the day-to-day work, be it office or personal life. It also helps us see the bigger picture – as an organisation how we are impacting the lives of so many people," says Siddharth Baliyan, Recruitment Associate.
Nitin Katiyar, Lead – Content Development, says, "It's a unique way to contact children across India. Storytelling is a more efficient way than traditional seminars. Truly, this is best use of technology for preparing the ground zero for a bigger education revolution, starting from India." 
The BYJU'S Volunteering Programme hopes to encourage more BYJUites to make a difference through volunteering their time. If you want to be a part of this noble initiative, click here to join.
---
BYJU'S Education for All is on a mission to empower 10 million children by 2025 with education. Through the BYJU'S Give programme, you can contribute to this movement and help children with quality digital learning. You can donate an old device, which we will refurbish, and then use the money raised to buy a new device. In case you do not have a device, you can also donate to an NGO partner, who will use the funds to buy devices for children.
In both cases, we will load our BYJU'S Think & Learn premium content onto these devices and distribute them to children in need.
Also Read: How BYJUites Planted the Seeds for a Better Future