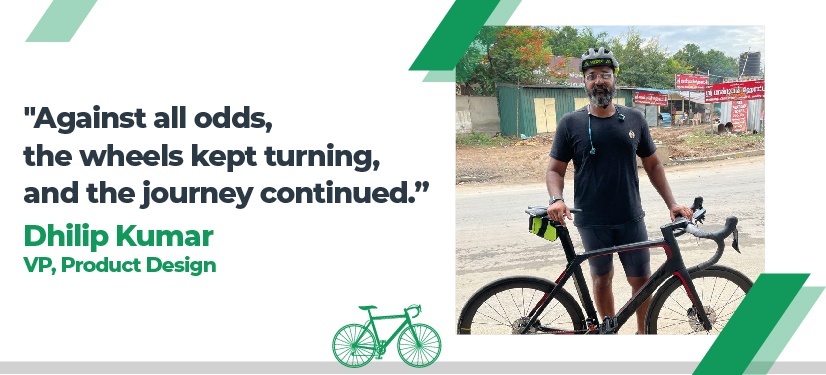 "Cycling serves as my daily energy boost, and it's more than just a subjective perception—it has scientific backing! Engaging in cycling triggers the release of serotonin, the 'happy hormone.' That's more than a valid reason to incorporate cycling into my everyday routine, don't you think?." Meet Dhilip Kumar, VP, Product Design at BYJU'S, whose passion for cycling propelled him from the confines of a ventilator during the pandemic, to conquering 200 km rides! 
In a realm where passion and edtech intertwine, Dhilip recognises the significance of learning and growth in all facets of life, including his cycling voyage. With BYJU'S commitment to providing interactive educational experiences, his quest for knowledge and self-improvement aligns seamlessly with his dedication to cycling. His journey embodies the ethos of BYJU'S, where personal development and a vibrant zeal for life intertwine.
Following our discovery of Preetham Kumar and Bharath P's cycling journey, join us in celebrating our very own Bicycle Week, by exploring Dhilip's cycling odyssey. As we delve into his journey, the VP of Product Design shares tales of his diverse bike collection, and his involvement in esteemed cycling clubs, plus sheds light on the essential gear for this thrilling pursuit. Prepare to be inspired by Dhilip's story of resilience, determination, and the pursuit of a transformed life on two wheels.
Also Read: Shaping a powerful narrative: In conversation with Director PR and Communications Kavitha Shenoy
Love at first ride
During his childhood, Dhilip would frequently rent bicycles for his weekend excursions. It was a special treat for him, a well-deserved reward for his diligence and hard work as a studious boy. However, everything changed during the COVID-19 lockdown when the gym became inaccessible, leaving him yearning for a way to stay active. And then, something extraordinary happened.
He narrates how he fell in love with cycling, "Even before entering a cycle showroom, I was captivated by the sleek Scott Foil 3 road bike. It made my heart skip a beat; almost like love at first sight. The very next day, I hopped on the bike and embarked on a thrilling 25 km ride in just one hour. It felt as if I was soaring, particularly on the desolate airport road." 
Joining a legendary cycling club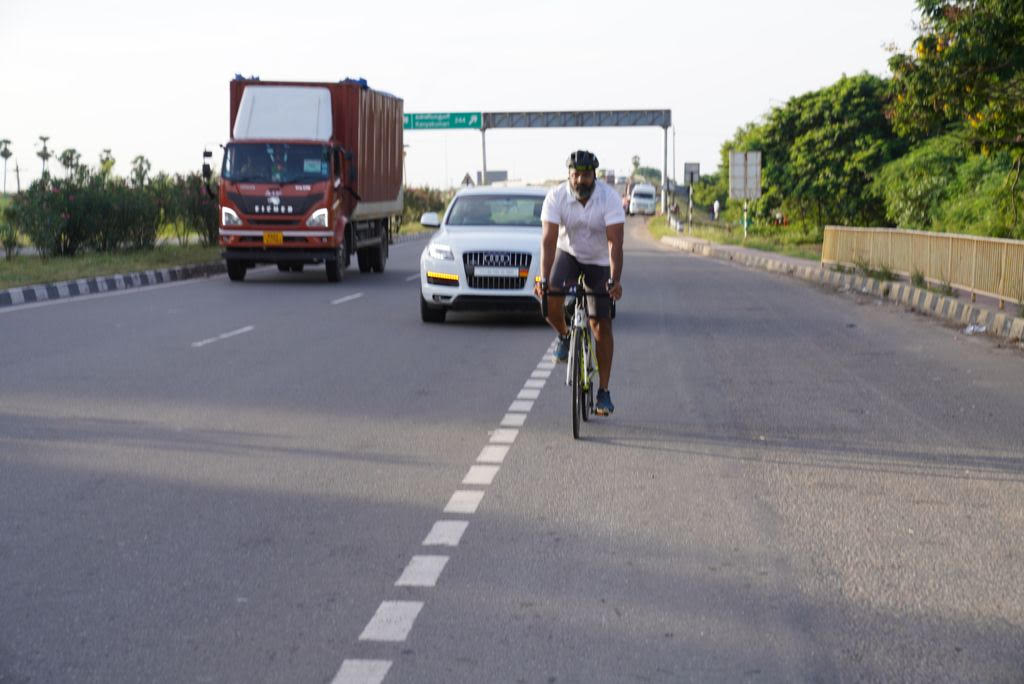 Dhilip shares his journey of joining a legendary cycling club in his hometown of Madurai. "I stumbled upon a renowned group of cyclists who were dedicated to their craft, conquering 50 km each day. Their impressive collection of bikes, including the likes of BMC Time Machines and Trek Madones, left me in awe. Encouraged by a friend, I invested in a Look Blade 795 series bike, experiencing the exhilaration of reaching speeds of up to 65 km per hour. With the wind in my hair, I felt nothing short of a superhero on two wheels."
The essential gear 
In the world of cycling, the gear you choose is just as important as the bike itself. Dhilip emphasises the significance of investing in top-notch cycling bib shorts. "Castelli is my preferred brand. These bibs reduce friction and enhance comfort, enabling you to ride longer and happier." He advises beginners to prioritise good bibs before splurging on a fancy bike, recognising the crucial role they play in optimising the cycling experience.
Against all odds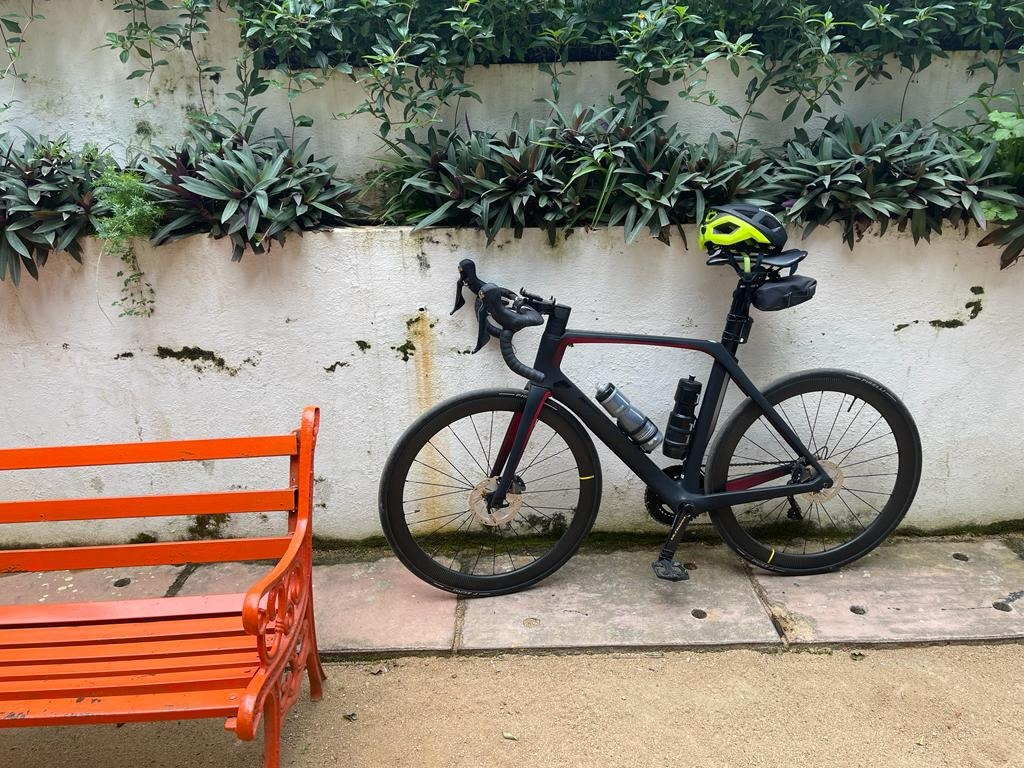 Despite being a dedicated fitness enthusiast, Dhilip's journey took an unexpected turn when he contracted COVID-19, resulting in a staggering 70% lung damage. Faced with a grim prognosis, he clung to the vision of returning to the saddle. Against all odds, he defied the expectations, emerging even fitter than before, conquering 100 km rides every Sunday and even triumphing in 200 km rides like a true champion. His story is a testament to the power of resilience and determination in the face of adversity.
Also Read: International Nurses Day | In conversation with BYJU'S Wellness Centre nurse on workplace wellness and check-ups
Amidst the chaos of unruly traffic, he found solace in his newfound hobby of collecting bicycles. With an ever-growing collection that surpasses his expectations, he contemplates the possibility of starting a museum to showcase his passion. As he encourages his friends to ride safely, he wishes for their longevity to enjoy the joy of amassing bicycles.
Whether you're a seasoned cyclist or a beginner contemplating your next adventure, let Dhilip's story be a source of inspiration. Embrace the joy of cycling, invest in quality gear, and remember to ride safely as you embark on your own journey of self-discovery and exploration on two wheels. May the roads ahead be filled with endless possibilities and unforgettable experiences.
We'd love to hear about your cycling adventures! Share your memorable experiences with us by leaving a comment below.
Like what you read? Head to Life at BYJU'S to learn more about our work, people, and the stories that make us unique. To explore job opportunities, check out Careers at BYJU'S.