"No two days are identical when you're a part of the Product Management team at BYJU'S, which is great, because it allows us to wear many hats," says Abhinav Prakash, Director of the Product Management team. 
Abhinav, a former edtech entrepreneur, joined BYJU'S as a Product Manager, got promoted as a Principal Product Manager and then as the Director. He believes that building a product strategy is a rewarding experience, as it affects the education and learning of a large number of students. 
In this edition of People who make BYJU'S, Abhinav navigates through his journey from being an entrepreneur to the Director of Product Management at BYJU'S.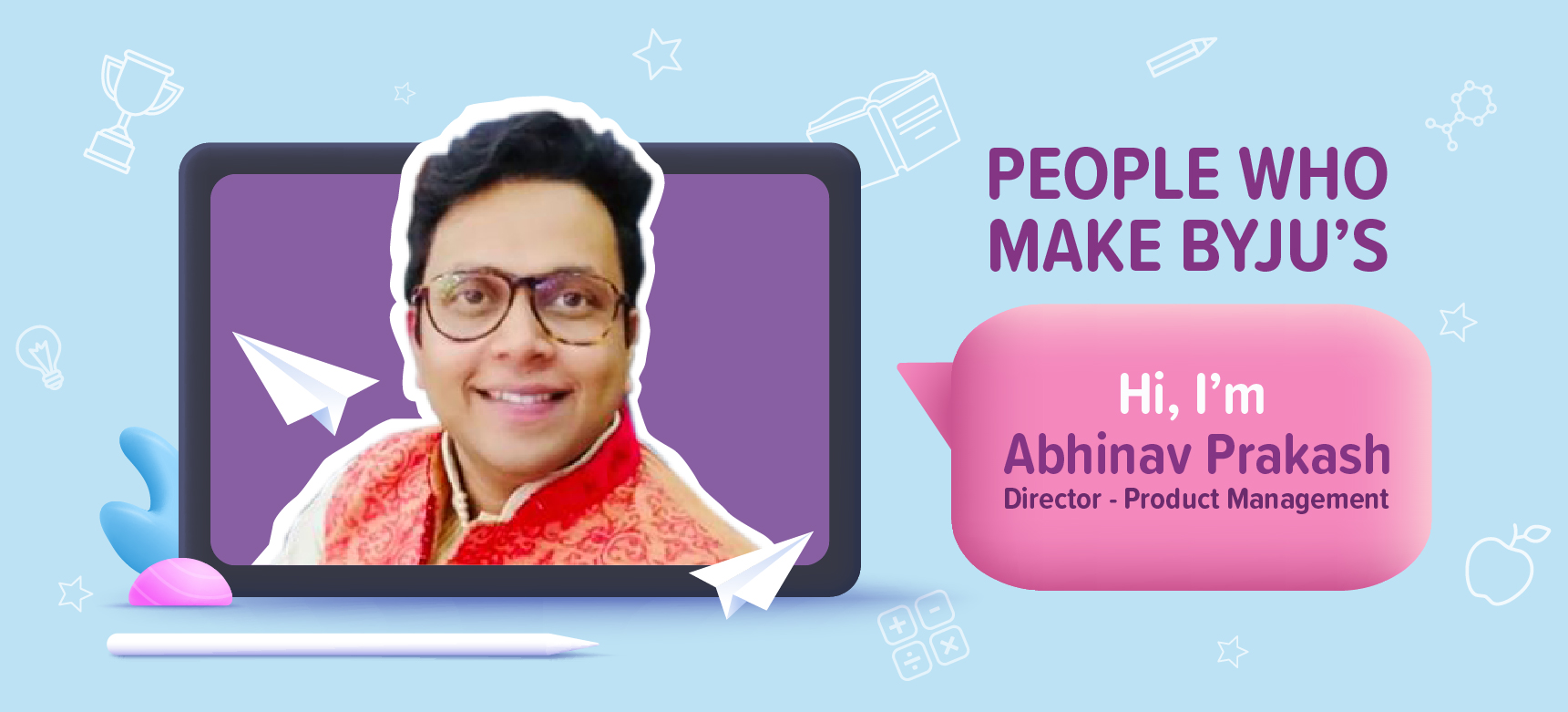 Impacting millions of learners 
Abhinav channels his entrepreneurial experiences to experimenting and building products. He shares that making the slightest upgrade to products can make a huge difference in the lives of students. They are able to experience education like never before, attempt exams in a more wholesome way, and become better well-rounded individuals. 
"At BYJU'S, we work towards creating impact with our reliable product experiences, and that's what keeps me motivated. Plus, there are endless opportunities for creativity in this domain, and I thrive on that. The idea of exploring new avenues motivates me and that binds me to my role." 
Also Read: Truth Or Myth: BYJUites Debunk Some Common Myths In Product Management
On adding a creative spin 
An ardent reader and movie buff, Abhinav's creative pursuits help him even at work. He says that ideas are not generated from scratch. Everything we create is inspired, and movies and books have always inspired him to be more creative.
Abhinav adds, "My creativity is pronounced by the movies I'm watching or the books I'm reading; the nomenclature, taxonomy, or even the colour theme we follow in an application might be influenced by pop culture."  
Product work culture 
Abhinav describes BYJU'S atmosphere as fast-paced and collaborative. Due to the diversity of experiences within the team, there's always something fun and interesting to learn from others. 
For Abhinav, it is not just about building a product but more about building great products, for which the prerequisite is to have a great team. "I believe, to build a good team, it's important to know where all the nuts and bolts fit. You should create a proper pathway for your team so that everyone stays motivated and focused." 
Talking about building a healthy team culture, Abhinav says, "From weekly huddles to brainstorming sessions and talking about what we do outside work, this team discusses everything, helping us bond and build trust, which helps us all work better." 
Also Read: How Puneet Akhouri's Passion For Tech And Music Led Him To BYJU'S
Team building and communication are key 
Abhinav strongly believes that as we grow higher in the Product Management hierarchy, there are two things that matter the most, team building and communication.
He further adds, "The Product team interacts with a lot of teams, each with different motivations, aspirations, goals, and objectives. The team collaborates with several verticals, from Marketing to Operations and Strategy to Sales. Communicating with various teams at BYJU'S has been quite a revealing experience for the entire product team." 
Golden rules to be a part of the Product team
Abinav shares golden rules for all aspiring Product Managers! "First and foremost, if you think you can hustle, then BYJU'S is the right place for you. Everything here is structured and systematic. All you need to do is bring your expertise."   
Abhinav affirms that everyone in the Product team is assigned responsibilities in such a way that they may work independently. Since BYJU'S caters to a large segment of students, every little change overseen by the team has the potential to impact millions of users, hence every team member takes their job very seriously.  
"And you know what's one of the greatest things about working at BYJU'S? A complete merit-based system that rewards you if you perform well. Your growth in the organisation is literally in your hands, with no room for biases," adds Abhinav Prakash. 
Also Read: From Enterprising Travel Host to Product Management: Aarushi Javeri Traces Her Road to BYJU'S
Like what you read? Head to Life at BYJU'S to learn more about our work, people, and the stories that make us unique. To explore job opportunities, check out Careers at BYJU'S.