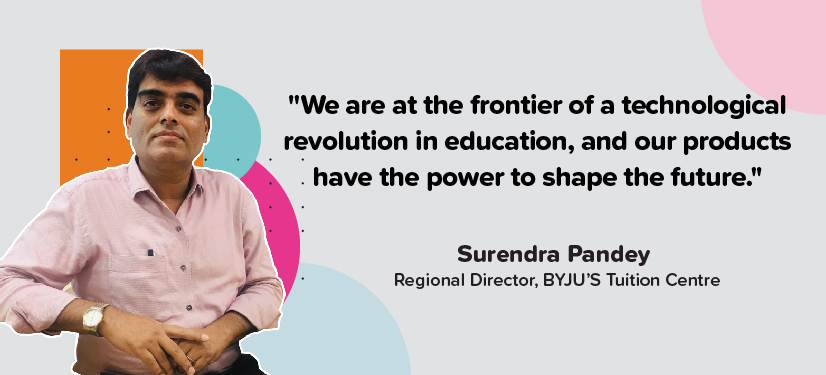 Combining the best of online and offline learning (hybrid learning) is what BYJU'S Tuition Centre is all about. And one of the BYJUites leading the charge is Regional Director, Surendra Pandey. With a single-minded focus to enhance student learning experience and eliminate the fear of Maths, Surendra has been championing effective learning methods for 20 years now. 
At BYJU'S Tuition Centre, he has leveraged our cutting-edge hybrid learning techniques to help thousands of teachers, parents, and students to enhance the learning outcomes. In this edition of A Day in the Life of, we take a look at what Surendra's workday looks like and how he's inspiring the next generation of learners. 
Also Read: Defining leadership | Surbhi Saxena on her BYJU'S Tuition Centre journey
Why did you decide to become a teacher?
I decided to become a Maths teacher rather early on in my life. I have been teaching part-time ever since I was in college, in fact. And over the last 20 years, I have either been teaching or doing administrative work in educational institutions, particularly in the coaching industry, and now I am a part of the edtech era. 
Most students have a fear of Maths and I was confident that I could help them overcome it. There's a systematic method to solving problems; I wanted to guide the students and simplify their learning process. 
What led you to join BYJU'S Tuition Centre? 
Teaching Maths is a passion; it feels great when you're able to help students understand and solve complex problems. My dedication and desire to help a large number of students prompted me to chart my own BYJU'S journey when I was offered the position. 
BYJU'S combines my love and passion for teaching with the right technological tools to not only help students understand the problems better but also make the learning outcomes more effective. I joined in October 2021, it's been a great journey so far, and I know it's only going to get better.  
Also Read: Women empowerment through education: Can technology-led learning increase women's workforce participation?
What does your typical workday look like?
My role acts as a bridge between all BYJU'S Tuition Centres, spread all across the country, and the central academic team in Bengaluru. We aim to provide our students with a seamless learning experience at every centre. Collaborating with the central academic team and the Zonal Academic Heads at the centres to create effective content and curriculum is an important aspect of my day. 
It is imperative for the centres to function per the standards of the central team so that every student's learning journey is enhanced. This is an interesting and thrilling challenge, as it also comes with a lot of responsibility.
What do you love about working at BYJU'S? 
Working at BYJU'S comes with a certain thrill and challenge that drives me to deliver my best. To explore my love for educating students on such a large scale is a truly enriching experience. 
Besides, the work culture at BYJU'S is completely transparent. Even at BTC, there are multiple teams working together — from academics to business to HR — everyone is aware of what's happening and they have the freedom to share their feedback or ideas without hesitation. 
As a senior leader, how are you influencing those around you?
We have  cutting-edge world-class products.  Everyone should be able to discover and harness their potential. BYJU'S Tuition Centre works on a blended learning* model, which combines the best of offline and online learning, which helps make our products accessible.  
I firmly believe blended learning is the future. It enhances learning outcomes and saves time. This is what motivates me and I encourage everyone to recognise the same — we are at the frontier of a technological revolution in education, and our products have the power to shape the future.  
Also Read: BYJUites on strong female role models and how they have shaped their lives and career
What is your message to aspiring BYJUites?
BYJU'S is a great place to learn and grow. Leveraging technology for learning is the future and you get to live through this at BYJU'S. It is especially great for the younger workforce, who have the opportunity to experience our cutting-edge products for themselves, and work in a truly tech-enabled space. 
*Blended learning combines face-to-face offline learning methods with electronic and online learning tools 
Head to Life at BYJU'S to learn more about our work, people, and the stories that make us unique. To explore job opportunities, check out Careers at BYJU'S.