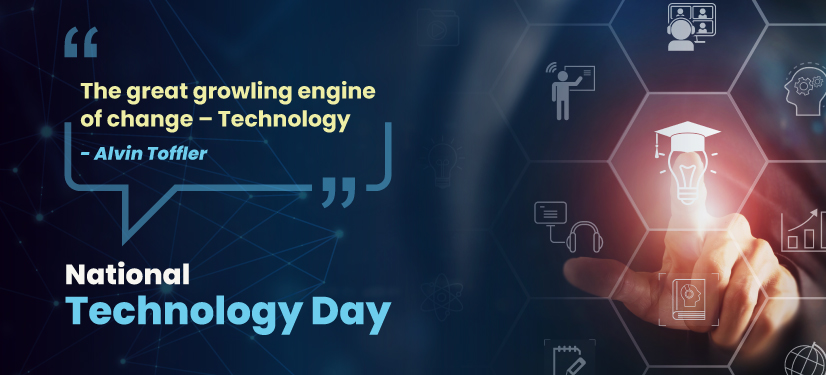 This National Technology Day,  we are celebrating the latest advancements in educational technology and its profound impact on learners. When it comes to edtech, BYJU'S leads the revolution and continues to transform the landscape, by making education engaging, effective, and accessible for learners around the globe
With personalised and captivating learning experiences through its online platforms, BYJU'S features an extensive array of courses and subjects tailored to learners of different age groups and backgrounds. It also provides high-quality education to those in remote or underserved areas, closing the gap between traditional classroom-based teaching and learning.
But exciting edtech advancements require more than just innovation; access to technology and effective tech support from tech and product teams is also essential. In celebration of National Tech Day, we spoke with a product manager and technical lead at BYJU'S. They reflected on the latest trends, innovations, and challenges in the dynamic world of edtech. Plus gave us insights into how BYJU'S uses augmented reality to create immersive learning experiences that enhance the effectiveness of what is being taught and increase engagement with the learners. 
Also Read: https://blog.byjus.com/life-at-byjus/people/tech-faqs-how-to-become-part-of-byjus-tech-team-national-tech-day/
Kiran Sathyanarayana

 
Technical Lead
As we, at BYJU'S, continuously launch new features to enhance the teaching and learning experience, my team and I oversee the student and tutor experience, manage the dashboard for tutors, and ensure a seamless experience for students during live classes on web and mobile platforms. We also focus on features like polls and chat, within the class. 
On BYJU'S making learning accessible 
What I love about working as a tech lead at BYJU'S is that we make learning accessible, regardless of location, with experienced tutors guiding every student, and enabling personalised, self-oriented learning, with interactive materials. Not just that, we are also leveraging our social initiatives programs with the use of technology, like donating devices and spreading the joy of learning among millions of learners with the Education for All initiative.
On the hottest edtech trend
The hottest edtech trend right now, is definitely AI-powered education. Integrating AI with education has the potential to revolutionise classrooms, improving the overall online education landscape. It aids BYJU'S vision of making education accessible to all. Precise and tailored learning experiences are particularly beneficial for students with special needs who may struggle with writing or mobility. Features such as speech recognition software can transcribe words. 
BYJU'S also explores videos with visual explanations, allowing students to grasp complex concepts in a fun and interactive way. For example, students can experience rollercoaster rides during explanations, facilitating better understanding and relatability.
On gamification
BYJU'S is already using gamification to keep students engaged and attentive. With gamified learning, they can participate in live classes and interactive activities. Think of this as a video game – you earn rewards, tackle point challenges, and climb the ranks to become number 1. And the best part? You can track your progress and watch yourself improve, just like a character in a game. 
BYJU'S gamifies learning with rewards, challenges, and rankings, to motivate and engage students, who can track their progress and improve, similar to video games. Rewards, badges, and points, allow students to advance through levels and track their development. It's essential to use gamification in a controlled manner and ensure that it's both interactive and educational, rather than just a way of playing games and distracting learners. At BYJU'S, we strive to maintain this balance. 
Popular educational tools using gamification include applications that integrate game mechanics and badges.
Shaily Sharma 
Senior Product Manager 
As a team, we focus on the success and engagement of learners at BYJU'S. Our team's charter includes enhancing the parent and student experience across their journey by simplifying and making it more consumer-friendly.
On AI-powered learning
Edtech is an ever-evolving sector that continues to change with the advent of new technologies, like AI. One of the latest trends in ad tech is the hybrid model of education, which combines both online and offline learning. Another trend is the use of AI and immersive technologies to personalise the learning experience for students.
BYJU'S uses BADRI,  AI-powered learning model, that provides personalised and tailored learning experiences based on the unique needs and abilities of each student. Using a technique called knowledge tracing, BADRI analyses each student's interactions with the platform to make accurate predictions about future exam performance.
Personalised education and adaptive learning are major focus areas for BYJU'S and AI is also used to provide quick and personalised answers to student queries through chatbots and virtual assistants. The 24/7 assistance provided by AI improves the learning experience and enhances decision-making, productivity, and user experience through natural language processing, speech recognition, computer vision, and predictive analytics.
On gamification
BYJU'S also utilises gamification tools like B Math and Osmo to engage younger students with shorter attention spans. BYJU'S Early Learn is an interactive program that incorporates gamification to make learning engaging. BYJU'S Journeys is used for older students, including video explanations, quizzes, games, and virtual simulations to aid in their learning.
Technology has its advantages and limitations, including AI. AI is being utilised for personalised and immersive learning, as well as administrative tasks like grading and assessment. And all of these administrative tasks can actually be reduced using AI. However, emotional intelligence deficits and lack of human interaction are challenges to consider. At BYJU'S, we are focusing on using technology to empower teachers, not replace them. 
Interactive classrooms 
Technology has enabled interactive learning, especially in classrooms, such as interactive whiteboards and augmented reality. At BYJU'S, interactive whiteboards can display multimedia content, like videos, images, and interactive quizzes to engage students and improve their understanding. Augmented reality can bring learning to life, making it more interactive and engaging for students by creating simulations and visualisations.
Also Read: Let's fix the headline | How BYJU'S teachers smash common teaching stereotypes
On National Technology Day we explored how technology has transformed education, with BYJU'S leading the way. From AI to gamification and interactive tools, we are making learning exciting, personalised, and effective. With a new technology like augmented reality, the future of edtech looks even more promising!
By embracing technology responsibly, we can unlock the full potential of edtech and take education to a whole new level for students all over the world.
Like what you read? Head to Life at BYJU'S to learn more about our work, people, and the stories that make us unique. To explore job opportunities, check out Careers at BYJU'S.