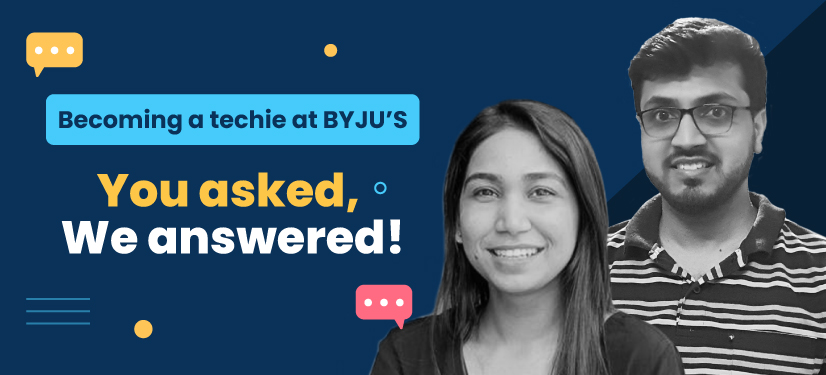 Creating some of the world's best online learning experiences requires some of the best tech talent the industry has to offer. Our world-class products have had the unflinching support of our tech team, who have ensured unique learning journeys for our students.
But how does one become part of this dynamic and talented bunch? 
To commemorate National Technology Day, we answer some frequently asked questions about the BYJU'S tech team and get you all the information on how you can also become a part of it. Hear it from Shobhit Singhal, Member of Technical Staff 2 and Muskan Grover, HRBP Executive Trainee break down what it means to be a techie at BYJU'S.
"I joined BYJU'S in September 2022 and it's been a great learning and growth journey," says Shobhit. "After being an HRBP for several months, I was eventually asked to become part of the talent acquisition process. It has been an incredible journey with lots of learning and handling multiple functions," says Muskan.    
Also Read: Let's fix the headline | How BYJU'S teachers smash common teaching stereotypes  
How to apply for a role in BYJU'S tech team? 
Muskan Grover: Information about openings is posted across all job search portals like Naukri, LinkedIn, Indeed, and Instahyre. Anyone interested can apply through them. 
Shobhit Singhal: My profile was shortlisted from Instahyre and I was called for the initial interview. One can also search for job openings on BYJU'S Careers page. 
What is the interview process like? 
Muskan: The interview spans three rounds, where a candidate is tested on their field of expertise. Once they clear the first two technical rounds, the third round is a conversation with the hiring manager. If the expectations of the candidate are aligned with the organisation, they are onboarded. 
Shobhit: After receiving the call, I was briefed about the three rounds. The first two rounds were based on coding data structures, algorithms, and design. The final round was mostly about my experience in my previous organisation — the projects I had worked on and how I had contributed.  
Muskan: A candidate should have thorough theoretical and practical knowledge for the position they're applying to. Having theoretical knowledge is essential because they can learn the practical part on the job. It would help them to understand the job description in detail and research the panel members from the information provided.  
Also Read: How Surendra Pandey's Maths teacher experience helps him simplify learning at BYJU'S Tuition Centre
Shobhit: It's essential to be thorough with data structures and algorithms. You must also be thoroughly knowledgeable about everything you've mentioned in your resume and what was mentioned in the job description.   
Can freshers apply to tech roles at BYJU'S? 
Muskan: Freshers are hired from some of India's premier campuses like IITs, NITs, and IIITs. We have onboarded hundreds of freshers since 2021. It's a great opportunity for fresh talent from across the country to get integrated into a world-class tech team.
What are the working hours of the tech team? 
Shobhit: At BYJU'S tech team, flexibility and work-life balance is a priority. I typically work for approximately 9 hours a day. The focus on flexibility enables us to have lighter days and that helps us strike a work-life balance.   
What is the salary of the tech team?
Muskan: As a tech-first company, we have some of the best minds in tech helping us create world-class learning products. With competitive salaries and benefits, we have attracted tech talent from some of the top organisations.  
How is the work culture in the tech team?
Shobhit: Collaboration, teamwork, and a love for learning are some of the key pillars of life at BYJU'S. The work culture is very open and friendly and your ideas are heard and encouraged irrespective of your designation. Whenever needed, you can easily approach anyone  and ask for guidance/help. There's ample opportunities for growth because you're working on products that are being used in the real world, that too on such a large scale. It's challenging and you get to learn so much in the process.   
What are the perks and benefits for those working in the tech team?
Muskan: Flexibility is a huge part of the tech team's work culture. The team's benefits further enable them to put their best foot forward and create some of the most cutting-edge learning products. Team meet-ups are organised every quarter, either physically or virtually. Plus, they are obviously eligible for all other benefits that every other BYJUite enjoys.  
Also Read: Defining leadership | Surbhi Saxena on her BYJU'S Tuition Centre journey
What are the growth and learning opportunities in the BYJU'S tech team? 
Muskan: At BYJU'S, a culture of learning is encouraged and nurtured. Open communication with seniors and managers enables growth and learning opportunities. We are open to learning and development of new skills that positively impact your job and career at large. If a manager wants their team to upskill, they can ask them to pursue an online course from any portal and that is reimbursed. We also ensure that every BYJU'S techie is satisfied with their project. If they wish to shift to another one, where they feel they can learn more and perform better, we make that happen.    
All you need to become part of the tech team at BYJU'S is the right mix of knowledge, coupled with passion and determination to create an impact in students' lives. A willingness to learn, unlearn, and relearn, along with an urge to grow in your job is the surefire formula for success. And that's how we celebrate National Tech Day!
Like what you read? Head to Life at BYJU'S to learn more about our work, people, and the stories that make us unique. To explore job opportunities, check out Careers at BYJU'S.