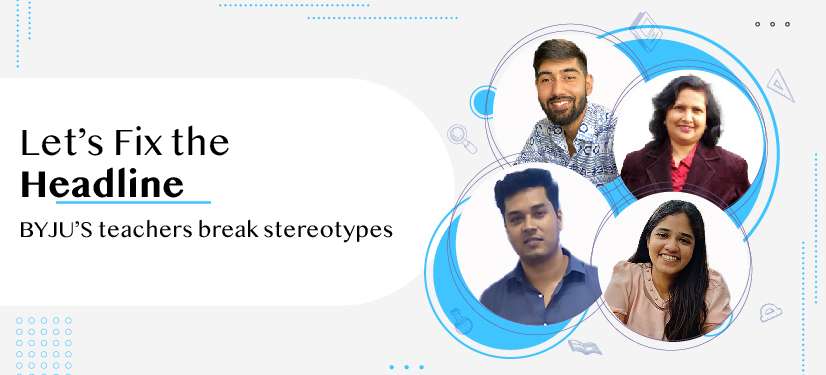 Teachers work fewer hours than people in other professions
A teacher's work is easier and less stressful
Teaching is a profession more suited to women
Teaching is an easier profession to get into
Those who can't do, teach
Much like a misleading headline, these statements only serve to stereotype teachers and the profession of teaching. While considered noble, teaching is also considered easy. Whether it's offline teaching or online, the notion is that all a teacher has to do is enter a class, deliver the lesson, and exit when the class is over. Job done. 
But it's not that simple! And  BYJU'S teachers tell us why and how, in this edition of Let's Fix the Headline.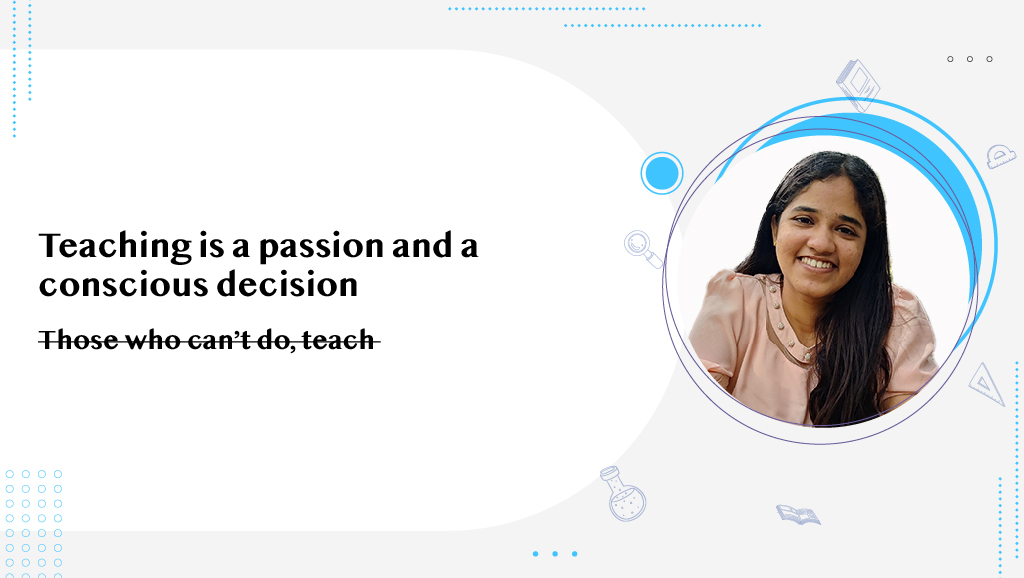 While volunteering with an NGO during her college days, Karthi M got her first taste of teaching young children. However, soon after getting her engineering degree, she started working with an analytics company. "But that desire to teach had already taken root. I knew teaching was what I wanted to do in my life," she recalls. The decision led her to join BYJU'S in 2019. 
Also Read: How Surendra Pandey's Maths teacher experience helps him simplify learning at BYJU'S Tuition Centre
"Teaching is a passion and there's an innate sense of satisfaction to see a child you've taught understand the concepts correctly," says Karthi, a Senior Academic Specialist. "It's a common misconception that teaching is easy and anybody can do it — you just have to go to class and deliver a lesson. But it requires lots of planning before and after to ensure that all learning outcomes are met," she adds.  
Online teaching, Karthi feels, takes this up a notch by adding technology to the mix. "Now teachers are not just going to a physical class to deliver lessons. They are using tech-enabled methods to teach effectively, especially at BYJU'S, which comes with its range of cutting-edge learning products," she says. "You have to be at the top of your game to ensure that the students are attentive, interested, and the learning process is seamless."
During the course of our conversation, we found out that teaching comes naturally to Karthi. "My mother has been a teacher all her life and I've grown up watching her teach and interact wonderfully with her students. I think that has greatly influenced my decision to take up teaching as a career path," she adds.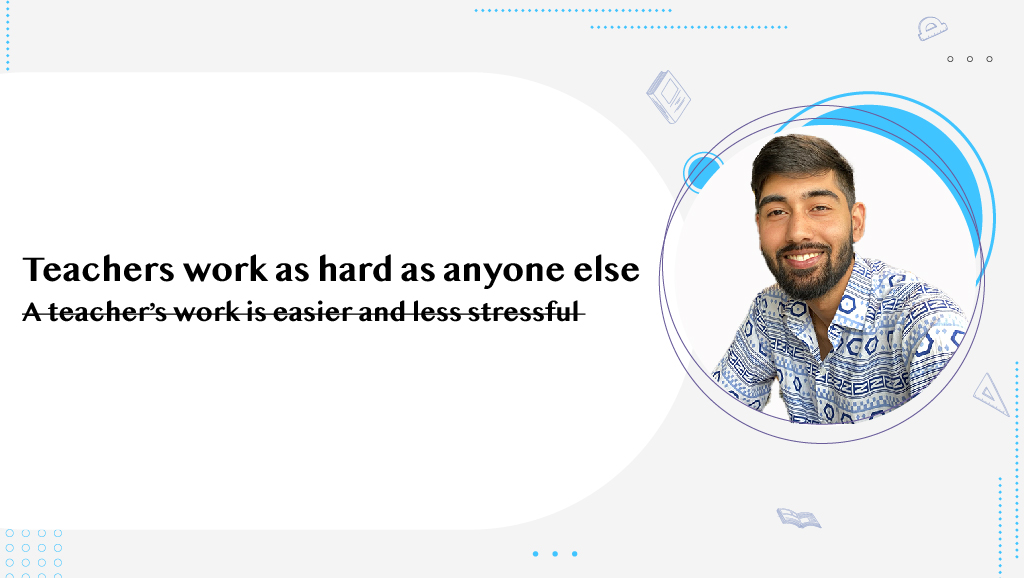 "What ELSE do you do?" is a question that Prashant Mahajan never wants to hear again. It's a question several ask when he mentions that he's a teacher. "A lot of people think that teaching is so easy that I can do something else as a side hustle," he says, adding "It's one of the most common misconceptions — being a teacher is never easy." 
From planning the lesson to ensuring that students interact with him during them, Prashant has his work cut out. "It's essential to understand child psychology and to establish a bond with your students during the class. This is important for online teaching especially, where you're not in the same room as them," he adds. "Doing that is never easy. This, in addition to having the knowledge of content, technology, and a flair for teaching, makes it challenging."  
A Biology teacher, Prashant has been an Academic Specialist at BYJU'S for the past two years. "Several people questioned my decision to teach after I completed my education with a degree in medical physiology. But I always knew that I wanted to teach and getting a platform like BYJU'S has been a dream come true," he gushes. 
Also Read: BYJUites on strong female role models and how they have shaped their lives and career
He feels that the reason everyone thinks teaching is an easy profession is the lack of awareness. "Everyone knows what doctors and engineers do but what they know about teachers is what they see in classrooms. But teaching is not just limited to the classrooms, whether online or offline. I think there's a need to spread awareness about the nitty-gritty of being a teacher and what goes behind making a truly good one," adds Prashant.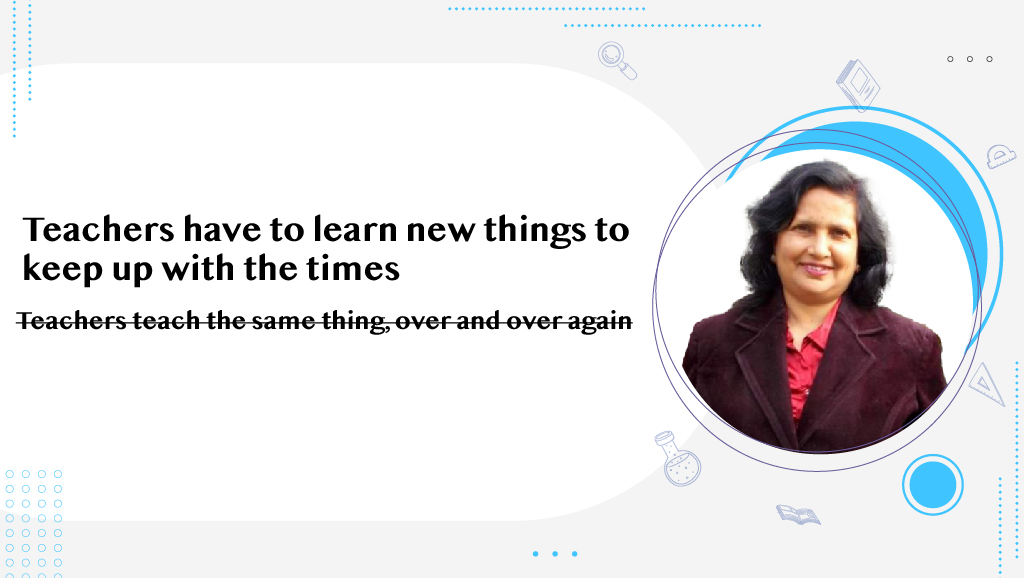 "You'll seldom hear someone proclaiming proudly that their son or daughter is a teacher like they would've, had they chosen to become a doctor, an engineer, or a pilot. That's the crux of the problem, I think. Being a teacher is not considered aspirational enough," says Aarti Tiwary, a BYJU'S Academic Specialist. 
After a long career, spanning 20 years, Aarti decided to foray into the world of online teaching post the pandemic. "I have taught in several schools over the years. But I wanted to keep up with the times and take up online learning," she says. At almost 56, Aarti is among the eldest of BYJU'S teachers. 
Over her long career, Aarti has faced her share of stereotypes and misconceptions. "Teaching was considered the profession of choice because one would also have time to take care of the household and children. While that may have been true back in the day, I don't think there's any merit to it now," she adds. 
"Teachers don't get as many vacation days as before nor are the hours any less now. There's a constant need to innovate, learn, and prepare, in order to deliver the lessons effectively," she explains, adding, "In an online learning environment, there's an even greater need to learn because you're dealing with cutting-edge technology daily." 
Also Read: Gender does not define leadership: BYJUites on a genderless future, at work and beyond
Aarti feels the students, too, have evolved with time. "The new generation is smart, they're fast learners and have the world at their fingertips with the help of their phones. The teachers have to be smarter and always put their best foot forward to ensure that students are able to relate and understand what is being taught," she adds.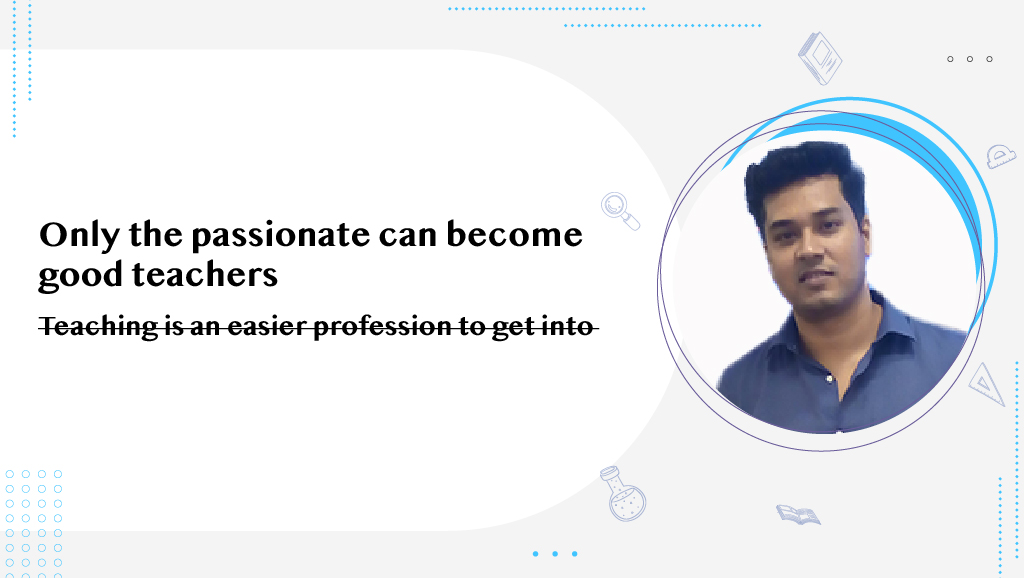 For Shanti Priya Vatsh, becoming a teacher was a conscious choice after he completed his Master's degree from IIT. "I could have taken up a job in a multinational corporation but teaching always attracted me. I have been doing it since my college days and wanted to continue," he says. 
Teaching is a passion, he says, and only those who are passionate can become good teachers. "You need to be passionate to thrive as a teacher. There's a misconception that the job is easy. But before the actual class, there's actually a lot of learning and preparation, especially if you're teaching NEET, IIT, or UPSC aspirants," he explains. 
After coaching IIT aspirants for several years, Shanti is now an Academic Centre Head at BYJU'S Tuition Centre. "I wanted to become a part of this unique hybrid learning model and joined BYJU'S Tuition Centre soon after it was launched. After joining as a faculty member, I eventually got promoted to my current position," he adds. 
To do away with the stereotype that it's an easier profession to get into, Shanti suggests stronger gatekeeping. "The screening and training process has to be made more challenging all across. There's a need for great teachers as it is they who shape the future of young learners. Our faculty are some of the best in the country and that really helps bring the classes at the centres to life," Shanti shares. 
Teaching is indeed an art and has to be entered into with passion. We, at BYJU'S, want our students' learning journey to be effective, unique, and memorable. And we have our passionate teachers to thank for making it so. With our world-class learning products coupled with some of the best online and offline teachers, we are enabling the new generation of learners to become the very best.  
Also Read: Women at BYJU'S | Haritha H on how an inclusive workplace aided her growth at BYJU'S Tuition Centre
If you're feeling inspired by Karthi, Prashant, Aarti, and Shanti's incredible journey to BYJU'S, you can also become a part of our family. Click here and here to check out our available roles. 
Like what you read? Head to Life at BYJU'S to learn more about our work, people, and the stories that make us unique. To explore job opportunities, check out Careers at BYJU'S.